Product
---
Cassava flour extraction from cassava machine
Cassava flour processing plant
---
Cassava flour making machine
Cassava is mainly distributed in Africa, which is an important source of edible amylum. Besides, the cassava can be engaged in producing various products of cassava starch, cassava flour, garri and so on . Our company will be able to help entrepreneurs to build cassava flour or starch processing plant. W We have much experience and advanced technique on cassava processing industrial.
The roots of cassava are the major constraint, which deteriorate rapidly. Cassava roots have 24-48 hours shelf-life after harvest, so the roots have to be processed within 2 to 3 days from harvest. The cassava flou production machine processing requires equipments for peeling, washing, grating, fermenting, drying, milling.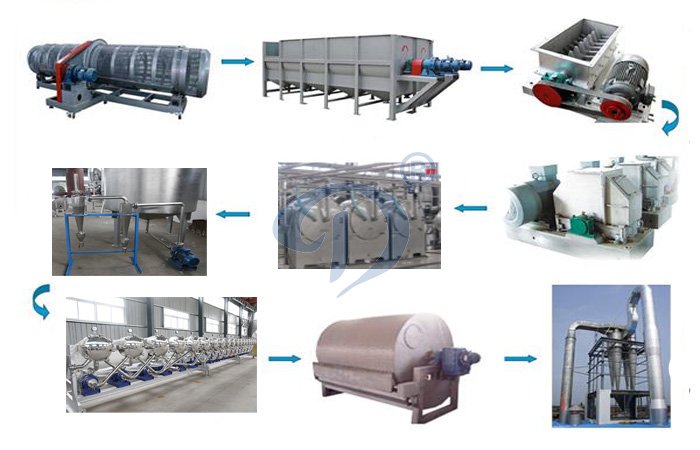 Cassava flour production machine
Technology of cassava flour extraction :
There are two kinds of methods of cassava flour extraction technology. one is wet cassava flour extration technology, another one is the dry cassava flour extraction technology.It will introduced well in this article.
Wet cassava flour extraction technology
Fresh cassava washing peeling--casava grinding-cassava pulp dewatering- block sifting- casava flour drying.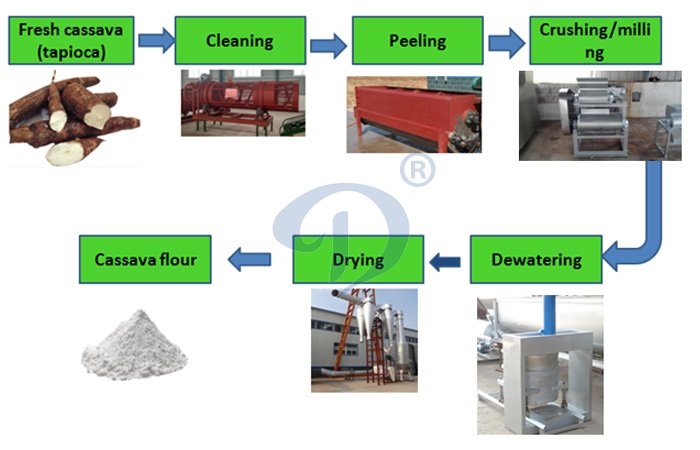 Cassava flour processing line machine
With this technology. Cassava flour extraction machine including:
Cassava parallel conveyor ;
Cassava washing machine ;
Cassava peeling machine ;
Cassava hammer crusher ;
Dewater machine ;
Sifting machine;
Airflow dryer ;
Milling machine;
Automatic packing machine.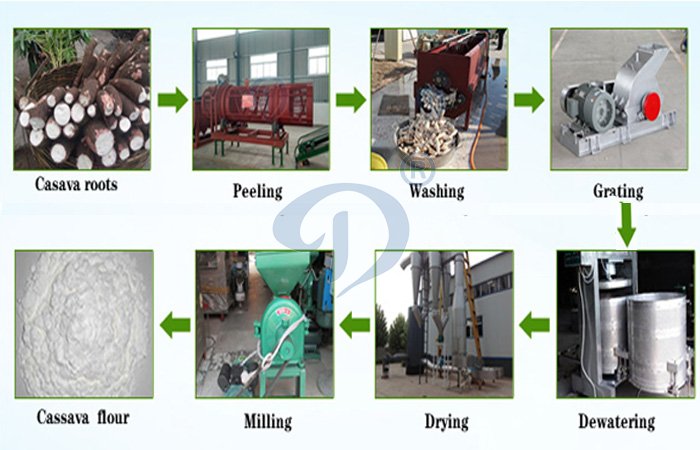 Cassava flour extraction line
Dry method of extraction of casava flour.
Cassava chips making-casava chips drying- chip milling- cassava flour. With this technology. Cassava flour extraction machine including:
casava chips making machine
cassava chips drying machine
milling machine
packing machine
If you have any questions about the cassava flour extraction machine, or you want to start a bisiness of cassava flour extraction plant, weclome to contact us ,our engineer will give you some help and professional suggestions according to your request.We will service you at 24 hours.
Get Support or Price!
If you want to get more information and offer of the equipment,leave us message online,we will reply as soon as possible !
Contact
Director: Ms Elina
Phone: +86 371 5677 1822
WhatsApp: 0086 135 2661 5783
Tel: +86 135 2661 5783
Skype: elina881130
Email:sales@doingmachinery.com
New products
Hot selling products
Project
---