Small scale cassava starch production plant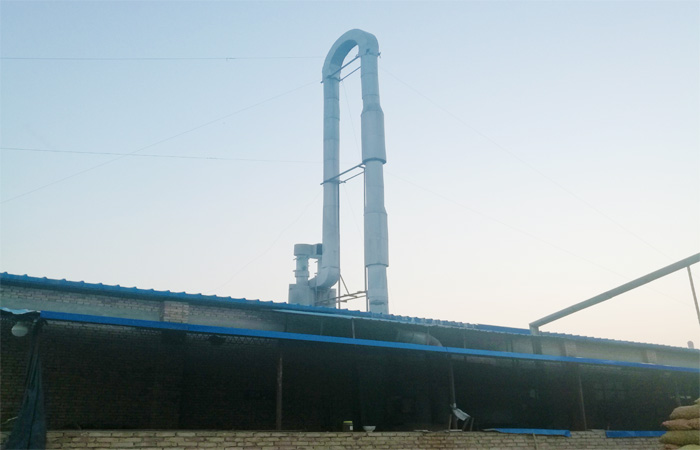 Factory direct sale contact number
Cassava starch is common used in sweeteners, sizing of paper and textile and excellent food starch as thickener and stabilizer. Wasted pulp can be cattle feed. Juice and spent process water can be fertilizers for land by spreading.
Cassava harvest can take place the whole year, which provides cassava starch a competitive advantage over potato starch in many applications.
Cassava starch processing can be done by small scale cassava starch production plant, which offers new opportunities for the application of cassava starch in high-end foods.
Small scale cassava starch production plant
Small scale cassava starch production plant main procedure and notice point:
All stalks must be removed from cassava roots. This is most easily done during harvest the cassava thoroughly.
1.WASHING AND CLEANING
Because soil and dirt remained in the washing station yield problems later. So washing is therefore very important in small scale cassava starch production plant.
High quality washing improves refining, because many impurities resemble starch in specific weight and size, the only way to remove them is washing. The washing takes place in three compartments - one with water level and two without. Rotary washing machine combines flushing at a low water level and continuous removal of dirt and peel.
2.CUTTING
The washed tubers are conveyed on an inspection belt to the cutting machine. In order to feed the rasps properly, the roots are chopped into pieces.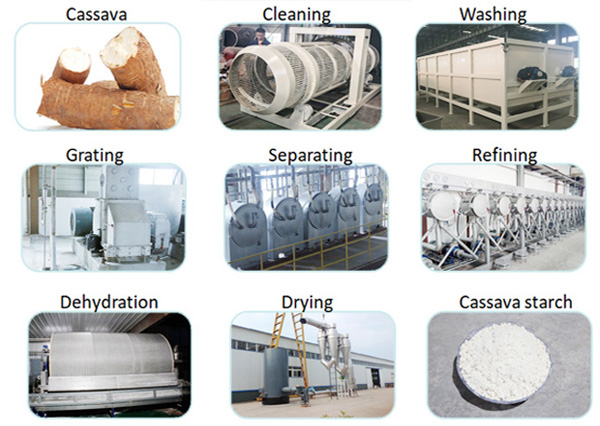 Cassava starch production process and main machines
3. RASPING
First step starch extraction in small scale cassava starch production plant is rasping, which can open all tuber cells and release all the starch granules. Slurry obtained is mixture of pulp (cell walls), fruit juice, and starch. With modern high-speed rasping machine, rasping is a one-pass operation only. An even feed of the rasps is essential for a steady flow throughout the rest of the cassava starch processing line.
4. EXTRACTION
For separating fiber and cell liquid and other dirt out of the cells, centrifuge sieving machine and fine fiber sieve will be applied in this step. The two machines have finer sieving meshes, so they can screen most of fibers. The application of stainless steel makes it feasible to achieve high efficiency.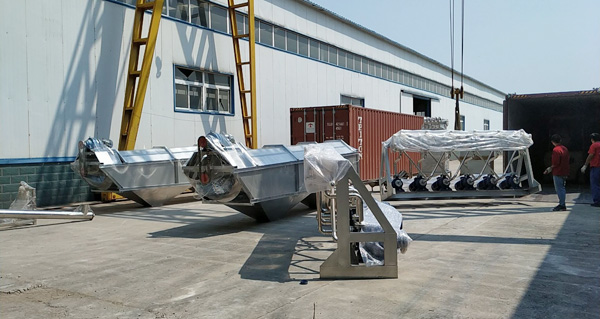 DOING cassava starch production machine delivery
5. CONCENTRATING CRUDE STARCH SLURRY
Disc centrifuge will be used in small scale cassava starch production plant for concentration. It is a kind of settling centrifuge, which use centrifugal force to accelerate separating process. It is widely used in processing of starch to separate cell liquid out of slurry. It also can be used for enrichment and purification of slurry.
6. REFINING-- HYDROCYCLONES
The starch slurry is diluted and concentrated again and again by hydro cyclone to reduce fiber and juice to low levels with a minimum of fresh water. Increasing the number of hydro cyclone refining steps may accomplish considerable savings of fresh water. Due to the strong gravitational fields of a hydro cyclone and a centrifuge, the starch settles quickly, while fiber (pulp residuals) just float in the water. Fibers with adhering air bubbles are lighter than water and seek towards the overflow. Fibers with starch granules enclosed are heavier and sink towards the underflow and mix with the starch. Refining is based on the differences in weight density between water, fibers, and starch. This process is very key in the whole small scale cassava starch production plant.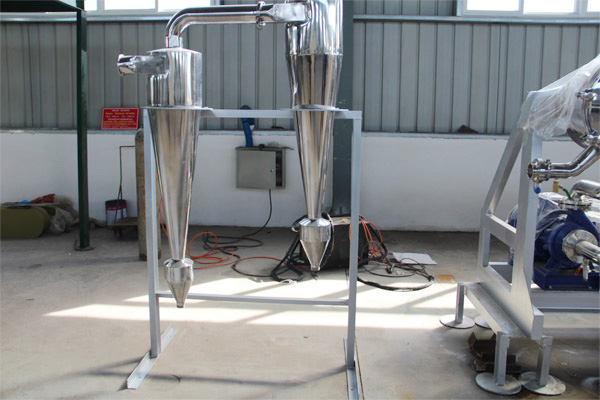 Desander
7. DESANDER
Remove the sand remained from refined starch pulp. The machine is necessary in small scale cassava starch production plant
8. DEWATER—VACUUM DEHYDRATOR
Starch pulp will be load from the tank at bottom, then water in pulp will be suck away by starch dehydrator machine(click to see the working video). Starch attached on surface of the drum will be unloaded by peeler. This kind of method is widely used in small scale cassava starch production plant. After this processing, moisture of the starch will be about 38%.
9. DRYING AND SIFTING.
The moist dewatered starch will be dried in a flash dryer with hot air. Temperature of the inlet air will be controlled by heating boiler. After this process, moisture of cassava starch is normally 12-13%.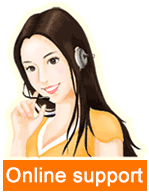 Leave a message

Tel/Whatsapp:
+8613526615783