How to produce cassava flour from cassava ?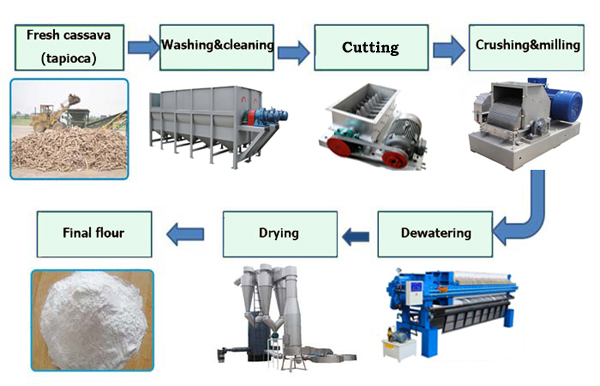 Cassava flour production process and main machines
Cassava flour also is powder-like form white product , but it is different with cassava starch. The cassava flour is made from all the cassava root and retain the nutrients of cassava . Compare with cassava starch , cassava flour has more comprehensive nutrition.Cassava flour production adopts wet milling process to produce high quality cassava flour from cassava .The cassava flour production process is mature technology , use advance and scientific process.
How to produce cassava flour from casasva ?
The cassava flour production process include the four process as below:
1. Cassava cleaning and of cassava flour production
:
Cleaning and washing process is very important production section of whole set cassava flour production machine. Because high impurity content will directly affect the quality of cassava flour. The cassava cleaning and washing machine include: dry sieve and paddle washing machine, dry sieve is mainly used to remove cassava skin and cassava surface soil, cassava paddle washing machine, it is used to remove sediment on cassava; Generally speaking, in order to get better washing effect, it need multiple machine working together.
Of courese , the cassava cleaning and washing process also can be made by human work for saving the machine cost .
2. Cassava grinding of cassava flour production
:
The cassava flour grinding process of cassava flour production machine is not same as cassava starch grinding process. Adding as little water as possible during the cassava grinding process. The crushed material is generally not filtered, to prevent loss of nutrients. By the way, in this process for cassava flour production, if you adopt our rasper for cassava grinding, there is no need the peeling machine because of rasper better grinding effect. Our sale manager and engineer will make the suitable cassava flour production plan for you as your need.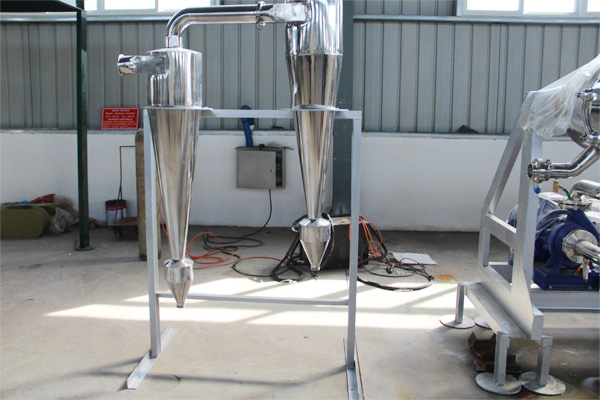 3. Cassava flour slurry desanding:
Adopt the automatic desanding machine for cassava flour slurry process to remove the impurities, guarantee finished cassava flour clean, high quality,
pipe transportation method.
4. Cassava flour dehydration of cassava flour production
:
For getting dry cassava flour, crushed cassava slurry need dewatering first. The cassava flour production machine dewatering machine is the plate frame filter press machine, automatic mechanical extrusion
. The dewatering machine is used to reduce the water content of material and improve the drying efficiency and quality for cassava flour production.
5. Cassava flour drying and sieving of cassava flour production
:
Drying cassava flour process is similar to cassava starch drying, it also can use air flow dryer. The hot air contact with wet cassava flour and take away the water inside of wet cassava flour quickly, After dring, the dry cassava flour will go through screening, after get the required fineness cassava flour can be directly packaged, the cassava flour below standard will be crushed again.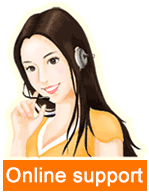 Leave a message

Tel/Whatsapp:
+8613526615783