How to make cassava starch ?
About how to make cassava starch, you must want to know the production process of cassava starch extraction, it includes from cassava cleaning to the final starch drying and packing. Cassava starch processing operation for how to make cassava starch mainly including the section of cleaning, washing, grinding, separating, dewatering and drying. The details process of how to make cassava starch are as followings: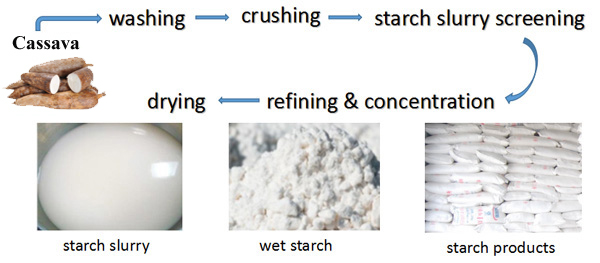 Cassava starch production process
Section 1: Cassava cleaning and washing section: dry sieve is used for cleaning sediment and impurities on fresh cassava. Cleaning efficiency affect significantly the quality of final starch. Through the collision of raw materials and friction between corner angles of the drum, sand and debris are separated completely. And sewage and sediment are discharged to bottom of the shell through drum gap. Then cleaned raw material in the answer for how to make cassava starch is slowly moved to discharging outlet and transported to collecting hopper by scraper conveyor. The paddle washing machine used for further washing the cassava, which adopt countercurrent washing principle. By the effect of paddle rotating, raw material flows in the converse direction against water current, which makes washing completely and eliminte sand and mud effectively.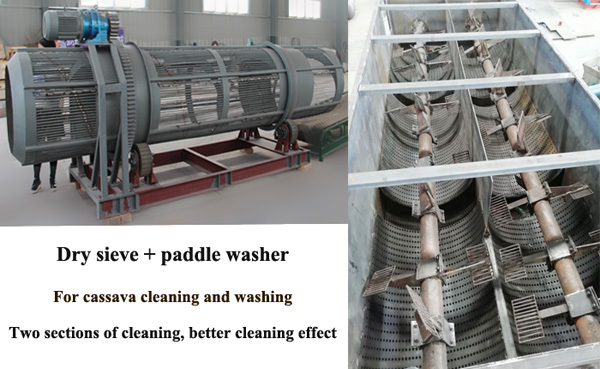 Cassava cleaning and washing machine details
Section 2: Cassava grinding section: cassava rasper is used for crushing materials in the starch processing of how to make cassava starch. The equipment run steadily, and bearings are imported SKF series and cooled by cooling water recycling system, which extends its service life and running time.It's the achievements of Doing company cooperate with the international advanced technology. Easy to change the backing screen, simple clamping device, easy operation.
Section 3: Cassava starch slurry separating and refing: centrifugal sieve is used for starch slurry washing and seperating, extract the adsorbed free starch in the slurry.It has the advantages of Low power consumption, stable operation, high starch extraction rate. Disc seperator is used for starch slurry washing, concentracting and seperating. Hydrocyclone combined with disc seperator, for starch slutty further washing and concentraction, used to remove fiber, protein cell sap out of starch milk to concentrate and delicate scrubbing starch milk. Usually, full cyclone separation system includes concentrating, recovering and washing. This part is important for improve the cassava starch whiteness for how to make cassava starch.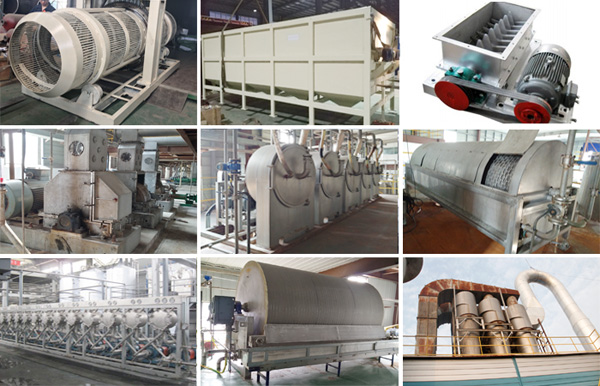 Main cassava starch processing machine
Section 4: Dewatering and drying section: Vacuum filter is used for starch slurry dewatering to get wet starch which water content is about 38%. The equipment absorbs the domestic and foreign advanced technology, stable, compact structure, low energy consumption, cover small area, work performance is good, high dewatering rate, and is an idea choice for large and medium-sized cassava starch production enterprise. While air dryer is finally step for starch drying of how to make cassava starch, process cassava starch water content about 13%, reach the standards requests. Working without noise, stable work, easy to operate.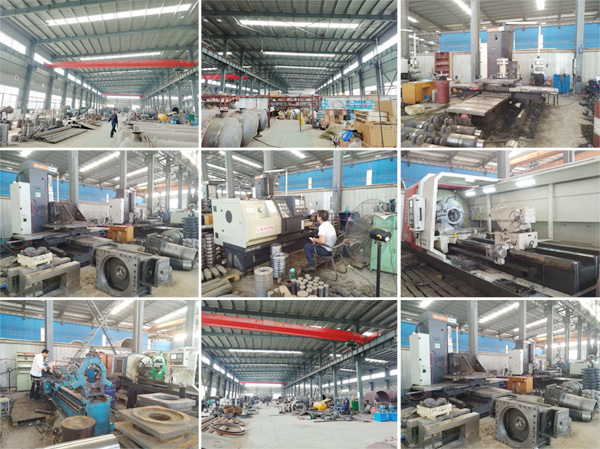 DOING cassava starch processing machine manufacturing
Cassava starch is not only used as food, but also readily converted chemically, physically, and biologically into many useful products to date.How to make cassava starch? Next,China Henan Doing Group will show you the manufacturing process.This article is not only for the person who would like to kown the manufacturing opertion, but also for the one who want to build the whole cassava starch processing line.Please remember if you just right want those equipment, we are not just an expert, but also a supplier.
Above all, this is Doing Company answer for how to make cassava starch, include the production process and main machine adopted. Cassava starch production plant is a good project with prospect market, hope you could interested in it.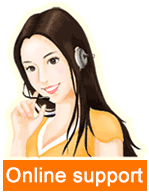 Leave a message

Tel/Whatsapp:
+8613526615783