Home>FAQ How do you manufacture Gari?
Gari is made from fresh cassava after washing, peeling, crushing, fermenting, de-watering, frying, and sieving. The steps of gari processing and the machines used are sorted out for you below.
Step1.Washing: dry sieve, paddle washer
Cassava cleaning is the first step of gari processing. Different from traditional manual cleaning, mechanical cleaning adopts automatic process cleaning, which is more efficient. For example, Henan Jinrui Company has different kinds of cassava cleaning machine. In gari processing, most people choose dry sieve and paddle washer to clean cassava roots. Any parameters and capacity can be customized here.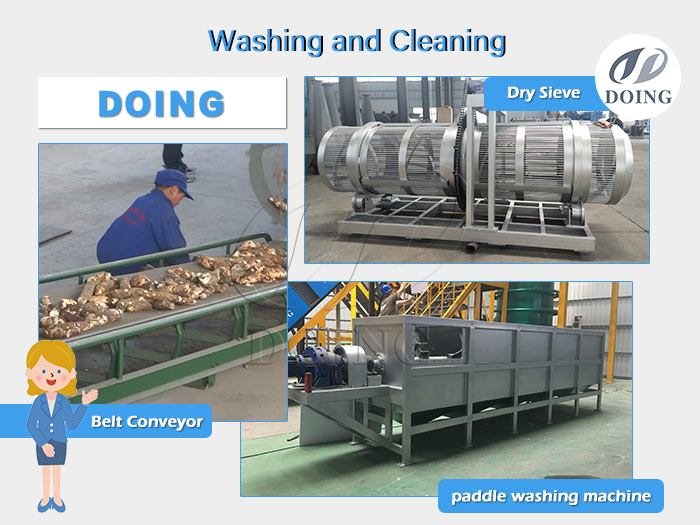 Cassava washing machine dry sieve and paddle washer
Step2.Peeling: cassava peeling machine
As well known, the skin of cassava is poisonous. So only removing cassava skin completely can produce gari that meets the standards of safe consumption. With the help of a cassava peeling machine, two layers of cassava roots can be removed. Also, this cassava peeler equips with a spray system, which has a better peeling and washing effect.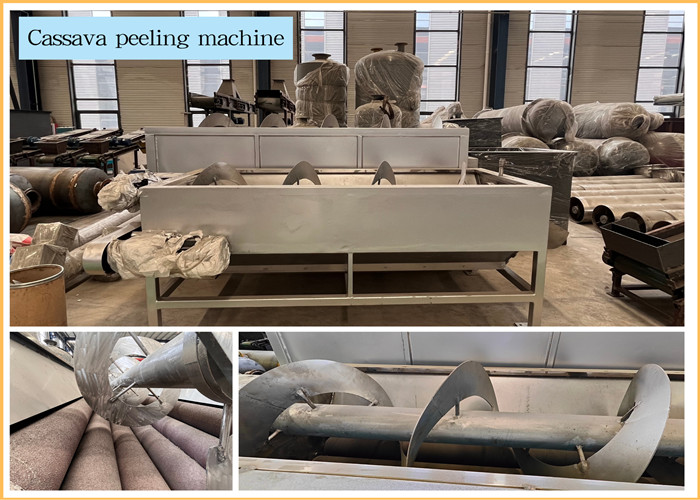 Cassava peeling machine
Step3.Crushing: cassava grater
After washing and peeling cassava, it's time to grind cassava into mash and wait 1~2 days to ferment. It's too slow to grind by hand. Most people buy cassava grater to finish this step. This cassava grater is widely used in gari processing because it crushes cassava into mash with larger particles and can retain the original flavor of cassava. It is one of our hot sale gari processing machines.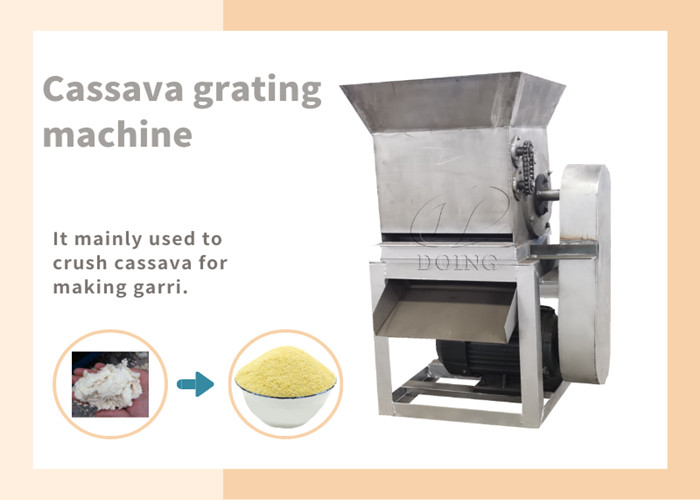 Cassava grating machine
Step4.De-watering: hydraulic press
De-watering fermented mash into wet cassava cake. The machine used is hydraulic press. It adopts hydraulic principle to squeeze out the water in cassava mash and is made of stainless steel to ensure product quality.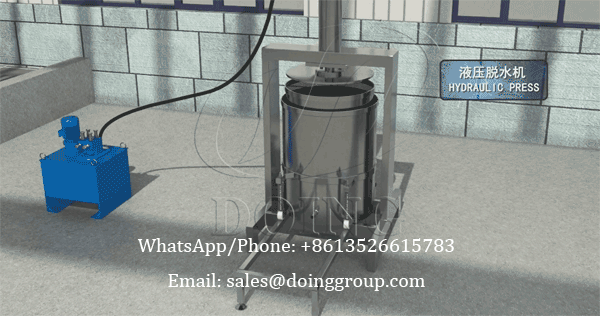 Cassava dewatering machine hydraulic press
Step5. Frying: gari frying machine
Crush wet cake into grits and roast grits into gari. Gari is normally white or cream, but will be yellow when made from yellow cassava roots or when fried with palm oil. It is important to make sure the taste and smell is acceptable to local consumers. This gari frying machine can automatically stir and control the temperature, which is easy to operate.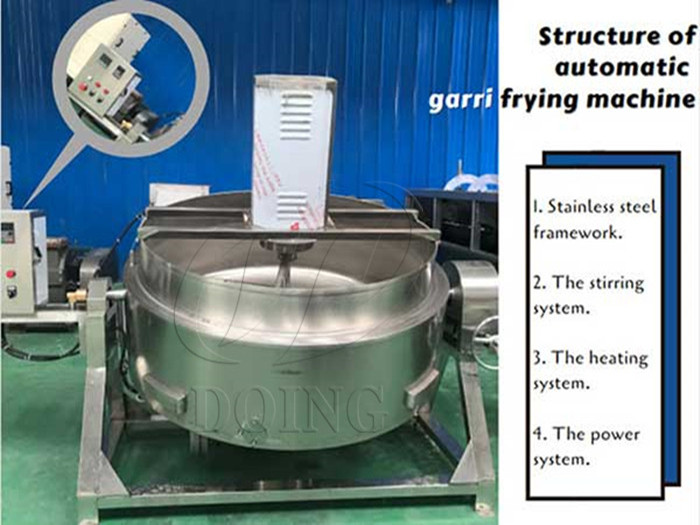 Stainless steel garri fryer
Step6. Sieving and packing: vibration sieve and automatic packer
Remove the gari from the frying machine and spread it thinly on a raised platform in the open air to cool and dry. Then sieve the gari with a vibration sieve to produce fine granules. Finally, pack and store the final gari into bags.
Seeing here, you'll have a clear understanding of how to manufacture gari. All the steps of gari processing can be finished by hand or machine, you can choose gari processing line with different degrees of automation. Henan Jinrui can design and manufacture gari processing machine at factory price. Our machines have been delivered to more than 30 countries in the world, such as Nigeria, Ghana, Cameroon, Benin, Sierra Leone, Liberia and etc. From cassava cleaning, peeling, grinding, fermenting, dehydrating, frying, sieving, and packing, we have machines with different capacities to meet customers' processing plans. Here is a photo of our machine: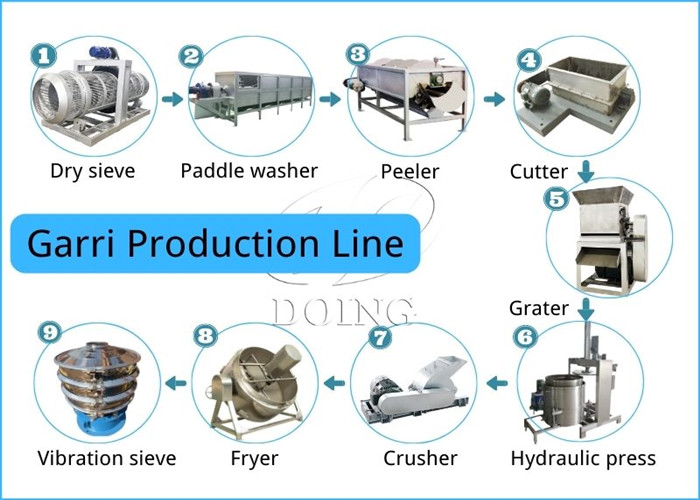 Complete garri processing machine
Whether it is fully automatic or semi-automatic gari processing, customers can choose and go about their business. In addition, we have professional technical support in machine installation and factory construction. After receiving customer orders, our factory will start to manufacture machines, and our engineers can design a factory drawing layout for the workshop building. Customers can build according to our guide.
If you also have plans to start a gari factory, please contact us as soon as possible. Our project managers can provide professional advice for you. Looking forward to your reply.
Leave A Message
More information about How do you manufacture Gari?, please contact us, we will get back to you ASAP.
Do you want to buy machine?
Yes, I want to buy machine
No, I Just learning
What is your raw material?
Cassava
Potato
Sweet potato
Others
2. What is the final product you want to produce?
Garri
Cassava flour
Cassava starch
Cassava chips
Attiekie
Bammy
Others
3.What is your capacity plan?
Small scale garri machine
1ton per day
2tons per day
3tons per day
10tons per day
20tons per day
Others
3.What is your capacity plan?
Small scale
5tons per day
10tons per day
20tons per day
50tons per day
100tons per day
Others
3.What is your capacity plan?
Small scale
5tons per day
10tons per day
20tons per day
50tons per day
100tons per day
200tons per day
300tons per day
Others
3.What is your capacity plan?
Small scale
Middle type
Large scale
What is your capacity plan?
Small scale
5tons per day
10tons per day
20tons per day
50tons per day
100tons per day
200tons per day
300tons per day
Others