Home>Product>Small scale garri production line with capacity of 0.5~2 tons/hour
Small scale garri production line with capacity of 0.5~2 tons/hour
Garri is popular in Africa because it is cheap and can be used as a substitute for wheat flour. As a leading cassava deep processing machine manufacturer in China, Henan Jinrui has three garri production lines equipped with different output machines. That is small scale garri production line(0.5~2 tons/hour), medium scale production line(3~6 tons/hour) and large scale production line(2~8 tons/hour). Small garri production line mainly includes cassava peeling machine, cassava grating machine, dewatering machine, garri fryer and sieving machine, which has low investment costs and can recover profits in a short time.
Watch a flow chart to understand small scale garri production line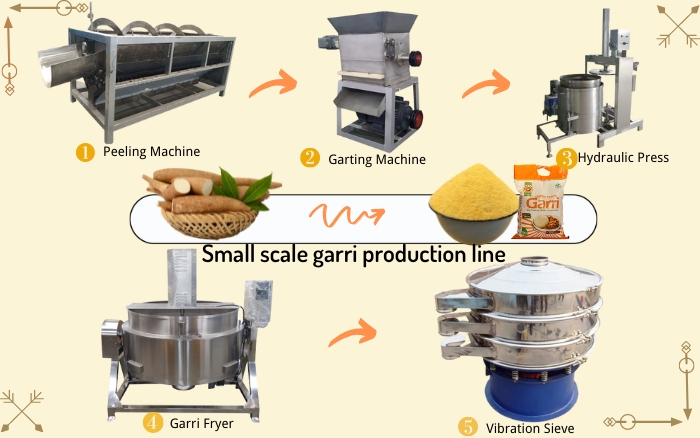 Small scale garri processing machine from HENAN JINRUI
Learn how to produce garri by the following steps
Steps 1: Peel and wash cassava tubers
Peel the fresh cassava tubers with cassava peeling machine. This step ensures the quality of the finished product because the cassava skin contains toxic substances and cannot be eaten. Considering the inefficiency and low peeling rate of manual peeling, the use of peeling machine can greatly save labour cost and increase productivity.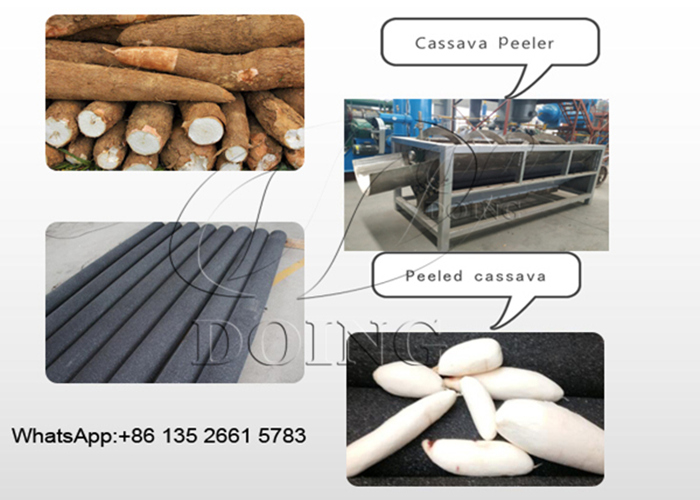 Cassava peeling machine used in garri production line
Steps 2: Grate cassava tubers into mash and wait for fermentation
While the machine is running, load the washed and peeled cassava tubers into a cassava grater and crush the tubers into a pulp. The broken cassava is bagged and fermented for 2-3 days, which helps to increase the garri flavor and obtain a better taste.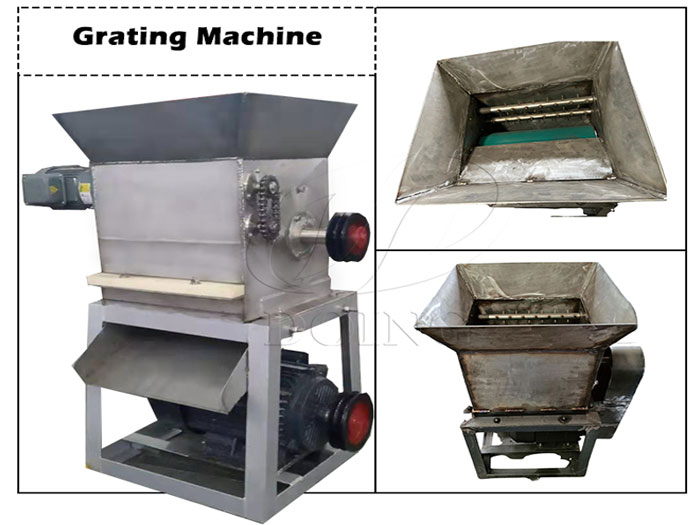 Hot sale cassava grating machine
Steps 3: Dewater cassava pulp
This step will use hydraulic press machine. The hydraulic press uses the pricinple of hydraulic press to directly squeeze the water out of the starch milk water and then discharge it. Put bags into hydraulic press machine for dewatering, after which we can get cassava cake with moisture content less than 40%.
High efficiency hydraulic press machine
Steps 4: Fry the wet garri
Next is the to fry garri. Traditional small scale garri processing plant normally use an old type pan with firewood heating and people operate it all the time, which is more and more inconvenient to use. The garri fryer produced by Henan Jinrui can automatically stir fry and control the temperature by itself, which ensures that no gelatinization occurs during the frying process of garri. The garri wok has 3 heating methods to choose from, namely gas heating, oil heating and electric heating. You can choose the most cost-effective one according to the local market economy.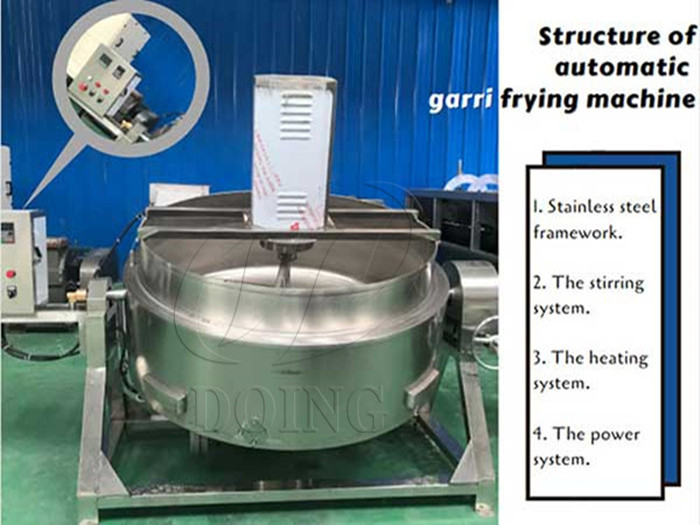 Automatic garri frying machine
Steps 5: Sieve the finished garri and pack it for sale
Last, use a vibration sieve to screen out the finished garri that meets the particle size requirements, and then pack them into bags for sale to the market.
The working process of vibration sieve
The following video shows you the whole process of small garri production line in detail
The above is an introduction to small scale garri production line, especially suitable for investors with limited budgets or newbies who are new to the garri processing business and want to expand slowly. Of course, if you want to expand the scale of garri production for greater profit, we can equip you with complete set modern garri processing machine with capacity of 2~8 tons per hour.
If you want to know more about garri processing machine and price, feel free to contact us, we have professional staff to answer your questions. Trust me, Henan Jinrui won't let you down.
Leave A Message
More information about Small scale garri production line with capacity of 0.5~2 tons/hour, please contact us, we will get back to you ASAP.
Do you want to buy machine?
Yes, I want to buy machine
No, I Just learning
What is your raw material?
Cassava
Potato
Sweet potato
Others
2. What is the final product you want to produce?
Garri
Cassava flour
Cassava starch
Cassava chips
Attiekie
Bammy
Others
3.What is your capacity plan?
Small scale garri machine
1ton per day
2tons per day
3tons per day
10tons per day
20tons per day
Others
3.What is your capacity plan?
Small scale
5tons per day
10tons per day
20tons per day
50tons per day
100tons per day
Others
3.What is your capacity plan?
Small scale
5tons per day
10tons per day
20tons per day
50tons per day
100tons per day
200tons per day
300tons per day
Others
3.What is your capacity plan?
Small scale
Middle type
Large scale
What is your capacity plan?
Small scale
5tons per day
10tons per day
20tons per day
50tons per day
100tons per day
200tons per day
300tons per day
Others