Home>Project 2TPH garri processing plant project in Ghana
Good news, 2TPH garri processing plant project has been successfully installed in Ghana. This 2TPH garri processing plant mainly includes dry sieve, cassava paddle washing machine, cassava peeling machine, cassava grater, hydraulic presser, hammer crusher, garri frying machine and garri vibration sieve as well as garri packer.
The Ghanaian client has previously purchased 500kg/h palm kernel oil press production machines from Henan Glory company, another company belongs to DOING HOLDING GROUP. And the equipment has helped him make a mass of capital since the palm kernel oil press production machines was put into production. Afterwards, he knew that cassava processing business in Ghana is lucrative, especially garri processing and considered that there happens to have enough investment fund. Thus, he planed to start garri processing business in Ghana.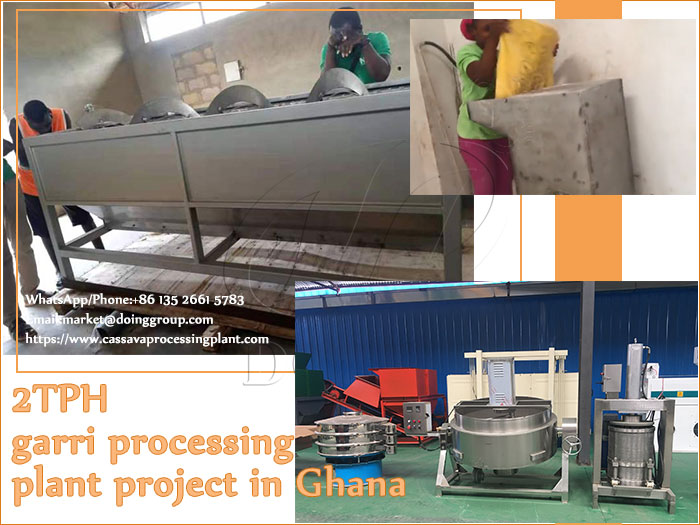 Garri processing plant in Ghana
In the process of visit the Google, he saw that Henan Jinrui company is rich experience manufacturer of cassava processing machine, and also learned that Henan Jinrui company belongs to DOING HOLDING GROUP. With these information and trust of DOING HOUDING GROUP, he sent message about his requirement to us once again.
According to his needs, our project manager recommended a 4 ton/hour garri production line for him. But due to the factory land limitation, the 4TPH garri processing machine couldn't install there. So, our project manager offered another garri processing plant solution to him. Through his practical inspection, the second solution has been agreed by the Ghana client.
At about 45 days manufacturing, the complete 2 TPH cassava to garri processing machine has been totally finished. And the equipment has a trial run before the official delivery. Also, the delivery is attached with the installation manual and operation instructions. But due to the installation is simple to do, there is no need to contribute special engineers to guide the Ghana client. Be that as it may, Henan Jinrui still provided necessary installation guidance through online video guidance.
Henan Jinrui has exported many cassava processing machines to Africa. Thus, we have abilities to provide customers with high quality machinery and perfect service as machine customizing, factory solution, quotation, etc. All cassava processing machines are sold at factory price. You are very welcomed to contact us at any time for consulting garri processing plant projects information! We are looking forward to be your partner!
Leave A Message
More information about 2TPH garri processing plant project in Ghana, please contact us, we will get back to you ASAP.
Do you want to buy machine?
Yes, I want to buy machine
No, I Just learning
What is your raw material?
Cassava
Potato
Sweet potato
Others
2. What is the final product you want to produce?
Garri
Cassava flour
Cassava starch
Cassava chips
Attiekie
Bammy
Others
3.What is your capacity plan?
Small scale garri machine
1ton per day
2tons per day
3tons per day
10tons per day
20tons per day
Others
3.What is your capacity plan?
Small scale
5tons per day
10tons per day
20tons per day
50tons per day
100tons per day
Others
3.What is your capacity plan?
Small scale
5tons per day
10tons per day
20tons per day
50tons per day
100tons per day
200tons per day
300tons per day
Others
3.What is your capacity plan?
Small scale
Middle type
Large scale
What is your capacity plan?
Small scale
5tons per day
10tons per day
20tons per day
50tons per day
100tons per day
200tons per day
300tons per day
Others