Home>Product>Complete set modern garri processing machine with capacity of 2~8 tons/hour
Complete set modern garri processing machine with capacity of 2~8 tons/hour
Garri is an important product of cassava processing and is very popular in West and Central Africa because it is cheaper than other carbohydrate sources, especially rice and corn. Traditional garri processing is usually done by hand or using home-made simple machines, which is not only inefficient and wasteful, but also produces low-quality garri that cannot meet modern food quality requirements. As a result, modern mechanized garri processing machine production began to replace traditional manual production.
Garri processing is generally divided into cleaning, peeling, grinding, dewatering, frying, sieving and packing. The complete set of garri processing machine required mainly includes dry sieve, paddle washing machine, cassava peeling machine, cassava grater, hydraulic press, garri fryer, vibration sieve and packing machine. With the help of modern garri processing machine, you can save labor costs and increase the efficiency of garri production for higher profits.
The flow chart of garri processing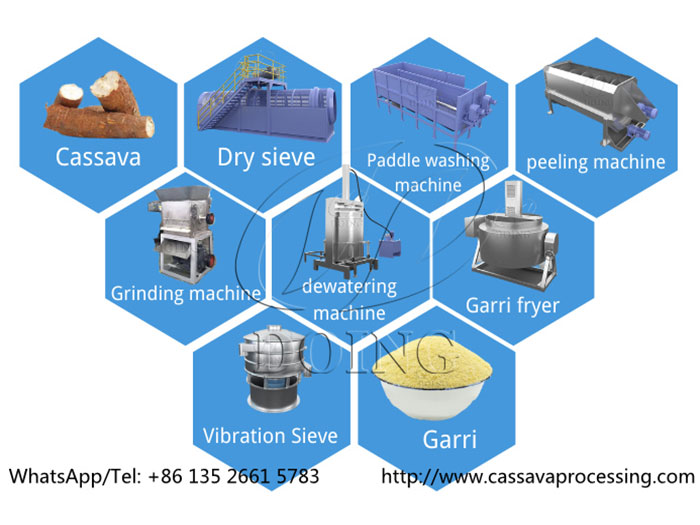 Complete set modern garri processing machine
The introduction and working process of complete set modern garri processing machine
1.Dry sieve and paddle washing machine
Dry sieve is used to remove most of the attached mud, stones and other large particles. Then use a paddle washing machine to wash away the fine sand, dirt and other small impurities on the surface of cassava. The dry sieve does not require water, but can remove most of impurities, and when used in conjunction with the paddle washing machine, it not only consumes less water but also achieve better cleaning effect. When used together, it can reduce machine wear and tear and prolong the service life of the machine.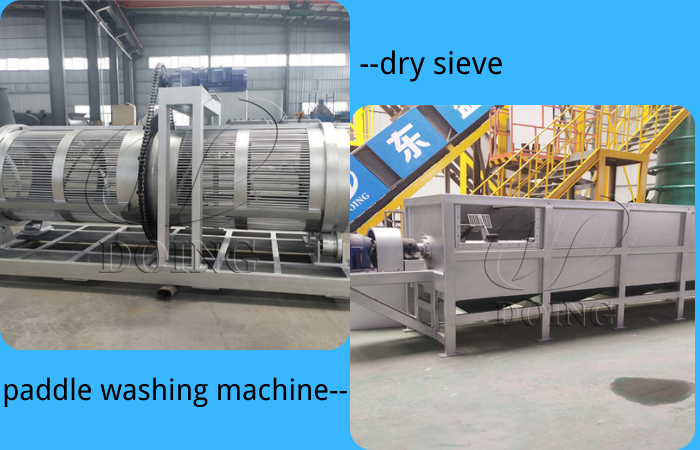 Cassava washing machine in garri processing
2.Cassava peeling machine
The cassava husk contains toxic cyanide-containing compounds, so cassava peeling is necessary. The efficiency of cassava peeling machine of different manufacturers is different. Combining the characteristics of cassava, Doing introduced advanced European technology to produce a cassava peeling machine with high efficiency (over 95% peeling rate), high output, simple operation, good peeling effect and clean peeling. It not only reduces the labor inefficiency and time-consuming troubles but also greatly saves labor.
The working process of cassava peeling machine
3.Cassava grater
Cassava grater plays an important role in the processing of cassava. It is mainly used to grate cassava into small granules. The higher crushing efficiency, the higher garri yield. The traditional grating adopts a simple grating machine, which not only has insufficient grating and low production efficiency, but also is easy to rust and pollute the product quality. The DOING cassava grater adopts the principle of bidirectional grating, which makes the grating more thorough and the output is higher. In addition, the parts in contact with the material are made of stainless steel to ensure product hygiene.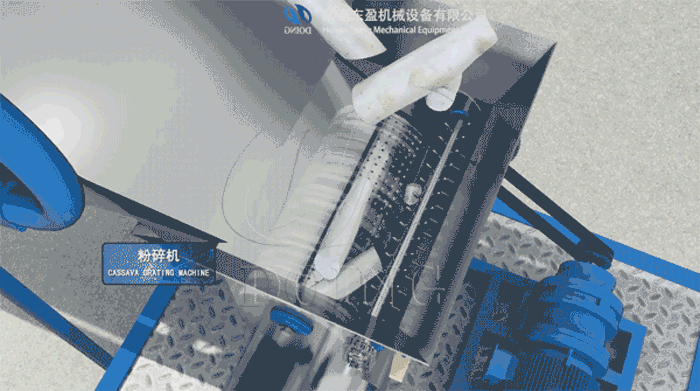 Cassava grater machine used in garri processing line
4.Hydraulic press machine
The hydraulic press machine uses the hydraulic principle to squeeze out the excess water in the crushed cassava. It can effectively reduce the moisture of cassava to the required quality, keep the moisture stable, and facilitate frying. At the same time, the internal structure of this machine is made of stainless steel to prevent pollution and improve the quality of finished garri.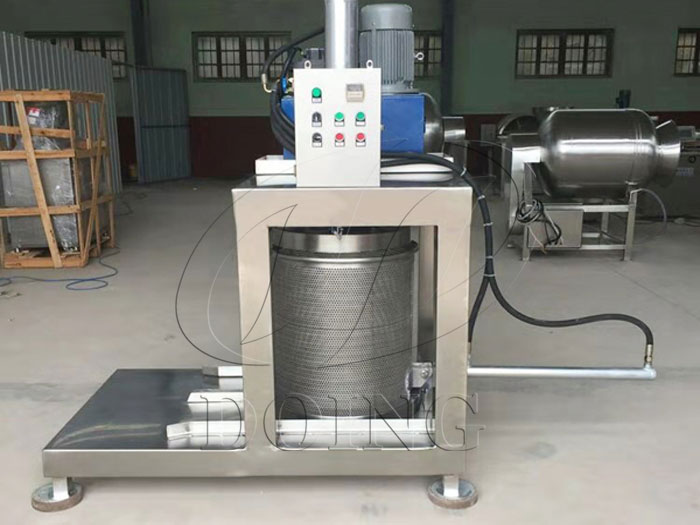 Hydraulic press machine used in garri processing
5. Garri frying machine
After dehydration, the garri has high moisture consistency, and use garri fryer to stir wet garri evenly to achieve the desired quality. The garri processing plant ensures that the garri in different parts is heated evenly, no sticky phenomenon and the quality of the produced garri is higher.
Garri frying machine working process
6.Vibration sieve
Vibration sieve is used to screen finished garri to meet the needs of different particle size packaging and sales. It has the advantages of high performance, low noise, continuous operation, and convenient movement.
7.Packing machine
The packing machine is the last machine in the garri processing line, used for quantitative packaging of finished garri.
The above is an introduction to a complete set of modern garri processing machine, suitable for large scale production of garri. In order to give you a clear understanding of garri processing process, please watch the following video.
If you want to start processing from a small scale, we suggest you choose to buy two or three single machines to form a small-scale garri production line to improve production efficiency and reduce costs.
If you have enough cassava supply, you can consider engaging in the garri business because it has low processing costs, high profits, and strong market demand. Doing Holdings Co., Ltd - Henan Jinrui Food Engineering Co., Ltd. is a professional manufacturer of cassava deep processing equipment. We can customize the garri processing machine that suits you best according to your budget and production requirements. Feel free to get free quotation from us!
【See also】:
Leave A Message
More information about Complete set modern garri processing machine with capacity of 2~8 tons/hour, please contact us, we will get back to you ASAP.
Do you want to buy machine?
Yes, I want to buy machine
No, I Just learning
What is your raw material?
Cassava
Potato
Sweet potato
Others
2. What is the final product you want to produce?
Garri
Cassava flour
Cassava starch
Cassava chips
Attiekie
Bammy
Others
3.What is your capacity plan?
Small scale garri machine
1ton per day
2tons per day
3tons per day
10tons per day
20tons per day
Others
3.What is your capacity plan?
Small scale
5tons per day
10tons per day
20tons per day
50tons per day
100tons per day
Others
3.What is your capacity plan?
Small scale
5tons per day
10tons per day
20tons per day
50tons per day
100tons per day
200tons per day
300tons per day
Others
3.What is your capacity plan?
Small scale
Middle type
Large scale
What is your capacity plan?
Small scale
5tons per day
10tons per day
20tons per day
50tons per day
100tons per day
200tons per day
300tons per day
Others