Home>Project 1TPH Garri processing plant was installed in Lagos, Nigeria
At the begin of 2021, Henan Jinrui company successfully installed a 1 t/h garri processing machines in Lagos,Nigeria. This is a small garri processing plant project, which took only about half a year from customer visiting our company to garri processing plant project installation.
In June 2020, two customers from Nigeria came to DOING company, the purpose of this trip was to purchase and pay for 1TPH garri processing plant. When they visited our factory, our sales manager patiently explained our garri processing technology and equipment knowledge to them, they were very satisfied and took a lot of photos. They think that our garri processing machines are much better than the local machines. Therefore, they paid the deposit immediately that night for they are really eager to produce garri in Lagos, Nigeria.
The customer's machines were designing and making
After two months of hard work, we not only successfully produced the complete of garri processing plant, but also provided the production workshop layout diagram including the details of equipment installation site in Nigeria and other professional technical data.
In August 2020, Doing Company loading all the garri processing plant and prepared to ship them to Lagos, Nigeria.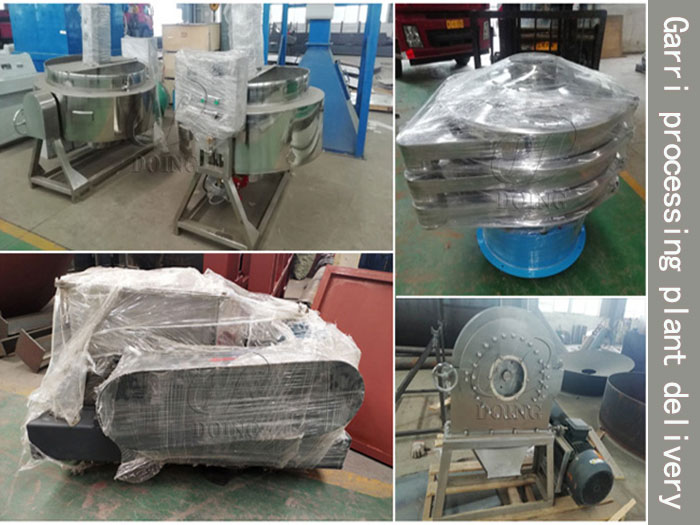 Garri processing machine delivery
In October, the customer told us that they had received the machine, and they were very happy. Because the garri processing plant were relatively simple to install, and the installation brochure our manager provided is simple and detailed. Besides, our company provides perfect after-sale and 7x24 hours online remote instruction. So the equipment installation work was done soon by themselves. They make sure that they will make high quality garri and can not wait to see the garri production in Lagos, Nigeria.
Not only in Nigeria, garri has vast market in Africa, especially in West Africa. 75% of cassava in Africa is estimated to be produced into garri, which shows that garri is a promising product. Realizing this fact, more and more people in Africa want to engage in garri processing business. Doing Company specializes in cassava deep processing machine, which has decades of years' experience in garri processing machine manufacturing, and meanwhile we have professional engineers and mature garri processing technology. So far, we have exported and installed garri processing plant to Nigeria, Tanzania and Ghana. Anyone who want to buy garri processing machines, please contact Henan Jinrui company.
Leave A Message
More information about 1TPH Garri processing plant was installed in Lagos, Nigeria, please contact us, we will get back to you ASAP.
Do you want to buy machine?
Yes, I want to buy machine
No, I Just learning
What is your raw material?
Cassava
Potato
Sweet potato
Others
2. What is the final product you want to produce?
Garri
Cassava flour
Cassava starch
Cassava chips
Attiekie
Bammy
Others
3.What is your capacity plan?
Small scale garri machine
1ton per day
2tons per day
3tons per day
10tons per day
20tons per day
Others
3.What is your capacity plan?
Small scale
5tons per day
10tons per day
20tons per day
50tons per day
100tons per day
Others
3.What is your capacity plan?
Small scale
5tons per day
10tons per day
20tons per day
50tons per day
100tons per day
200tons per day
300tons per day
Others
3.What is your capacity plan?
Small scale
Middle type
Large scale
What is your capacity plan?
Small scale
5tons per day
10tons per day
20tons per day
50tons per day
100tons per day
200tons per day
300tons per day
Others