How tapioca flour is made?
Before answer the question how tapioca flour is made, let's start with tapioca flour introduction, tapioca flour is different with starch, it can be rolling into small balls, after heating, can be eat directly, taste flexible, color is transparent, more and more widely used in dessert and beverage making, popular all over the world. For another, tapioca flour is a kind of white powder that is dewatered and dried, it is a main food in some tropica planting areas. Before made to tapioca flour, tapioca must go through a series of processing procedures.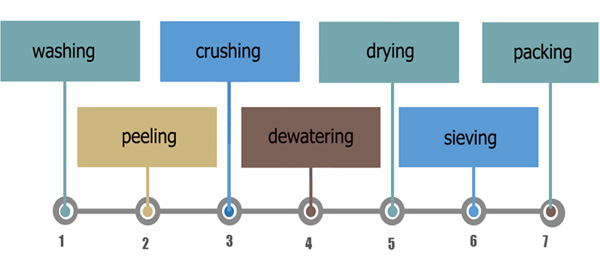 tapioca flour production process
The detailed description of how tapioca flour is made will be as follows, mainly divided into two parts:
Firstly, the detailed technical steps will be introduced. Fresh tapioca roots are transported by conveyor belt to the cleaning and washing machines. After the tapioca has been cleaned enough, they should be peeled by Doing Company professional peeling machine. This step helps to clean the outer and subcutaneous cuticle of the tapioca completely. Then the peelled tapioca are transported to a tapioca crushing machine, this crushing machine another name is rasper, more fine crushing effect than traditional hammer type, actually, I think this is the most important process of how tapioca flour is made, because this made process decided the tapioca flour taste. After this tapioca becomes tapioca slurry, this time the water content is large, can't directly send to air drying. Then the tapioca slurry is filtered off sand by de-sanding machine. Then the another important step is that plate & frame filter press dewatering, after dewatering get wet tapioca flour send to air drying, finally we can get tapioca flour with moisture about 13%, meet the standards. Next, the dry cassava flour is milled by hammer mill again and the milled tapioca flour is sieved by vibration sieve to remove fibrous materials and any lumps. Finally, the high-quality cassava flour is obtained and packed by packing machine. To sum up, this is the technology answer of how tapioca flour is made.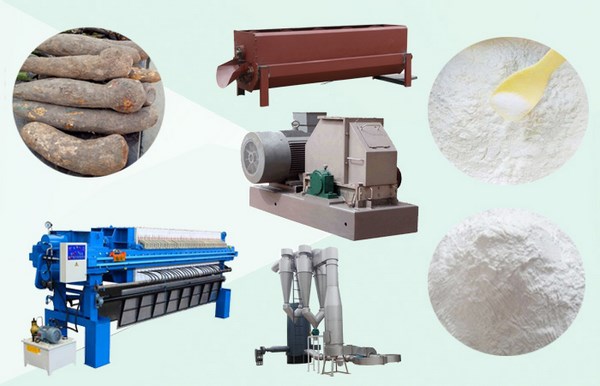 Mains machines used to made tapioca flour
Secondly, some details about the main machines will be introduced. In the cleaning and washing part of the tapioca flour made, dry sieve and paddle washing machine are main machines. Multiple inner spirals design of dry sieve is adopted to push tapioca moving forward in order to clean the impurities on the surface of cassava roots. Paddle washing machine adopts countercurrent washing principle. By the effect of paddle rotating, raw materials flows in the converse direction against water, which makes the washing effectively. To peel the outer and subcutaneous cuticles of cassava, cassava peeling machine is adopted. The machine spin its knife to remove the outter peel. And the peeling rate is above 95%. Then in the crushing part, rasper uses high speed rotating knife to break the raw material into mush with high efficiency. After that, tapioca slurry de-sanding machine separates the impurities and tapioca slurry.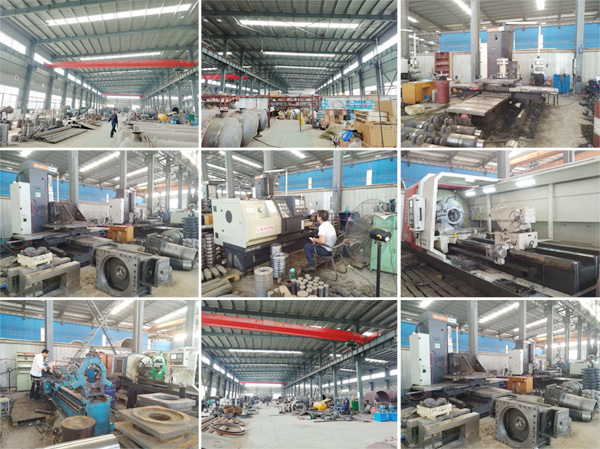 DOING manufacturing shop
In the dewatering and drying part, plate & frame filter press is used for solid-liquid separation. The machine is designed with integration of machine, electricity and liquid, which can realize automatic pressing, filtering, draining ,squeezing and so on. The dewatered tapioca flour is dried in an air drying machine with hot air. When wet tapioca mash mix with hot air, after heat exchange, the hot air take away the excess moisture, the dry tapioca flour is collected by cyclone. After drying, the tapioca flour moisture is normally around 12-13%. The milled tapioca flour is sieved by vibration sieve. This machine is a high-precision fine-particle screening machine, which adopts vari to separates different size particles and powder materials. The last step is to use automatic packing machine to pack tapioca flour. Above all, how tapioca flour is made, suitable made tapioca flour machines is an important select.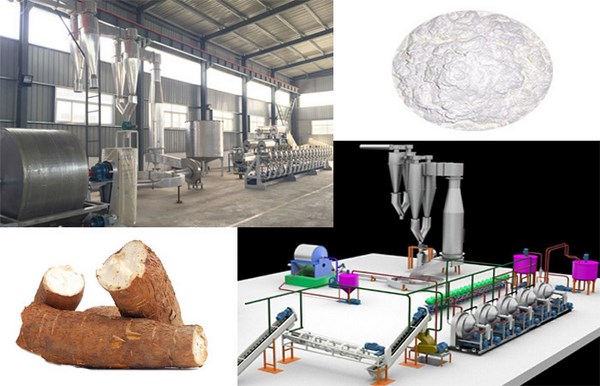 Tapioca processing machine design
In short, this is the answer for how tapioca flour is made which includes tapioca cleaning and washing, tapioca peeling, tapioca crushing and milling, tapioca slurry de-sanding and dewatering, tapioca flour drying, tapioca flour milling and sieving and final flour products packing.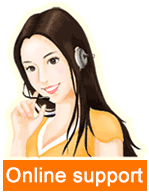 Leave a message

Tel/Whatsapp:
+8613526615783