HomeFAQ What machines can you use to speed up garri production?
As one of the main daily food in West Africa countries, most garri is produced by manual working. But in recent years, with the mechanized development, more and more people choose to use mechanical machine to speed up garri production. However, some customers don't know much about garri processing machine and lack enough experience to choose machines. So here we as experienced garri processing machine manufacturer, will introduce you what machines you can use to speed up garri production.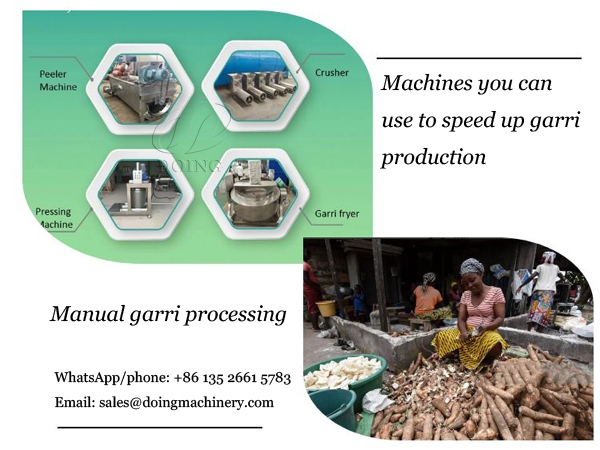 Mechanical garri processing VS manual garri processing
If you have made garri in person, you will clearly know that garri processsing is time-consuming and laborious, especially the cassava peeling, grating and frying process. If they are all done by manual processing, it will be too slow and too tiring.
To speed up garri production and save people from troublesome work, Doing Company design and manufacture high efficient cassava peeling machine, cassava grating machine and garri fryer. They are designed based on the propertity of cassava and our engineer's professional knowledge and project experience, which can highly speed up the garri production. Here we will introduce these machines in detail.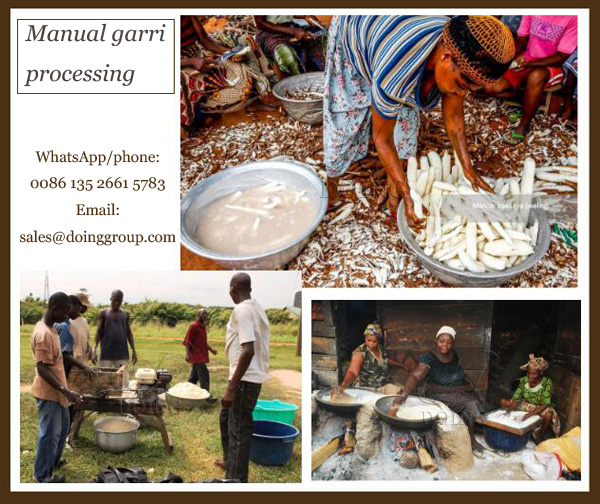 Time-consuming manual garri processing
The cassava peeling machine designed by Doing Company is very relible, with a good peeling effect, which not only can peel cassava clean but also reduce the loss. It can peel at least 1.5ton fresh cassava tubers per hour, greatly improved the peeling efficiency of cassava.
Our cassava grating machine can automatic grate into mash with high speed and high efficiency. And after grating, it can also separate the liquid and cassava mash automatically. Then the grated cassava mash can be put into bags for fermentation directly, which is very convenievt and save time.
DOING garri fryer can also automatic fry garri evenly. Compared with manual garri frying, garri fryer can ensure the moisture uniform of garri and no paste. Meanwhile, to ensure garri quality, we also adopt stainless steel material to prevent garri being polluted.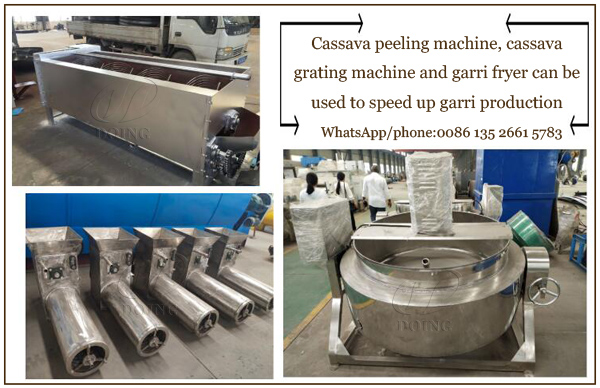 Machines to speed up garri production
The above machines can not only greatly speed up garri production but also save people from hard work, so they are favored by customers in Africa.
In addition, for people who want to process garri automaticly by machines or process garri in large quantity, Doing Company can also provide you cassava cleaner, washer, hydraulic press and vibration sieve. Cleaner and washer can automatically clean cassava thoroughly with few short time. Hydraulic press has even pressure and good dewatering effect. After pressing, the moisture content of cassava cake is less than 40%. It has the advantages of low power consumption, automatic pressing, save labour and time. Besides, using our vibrating sieve can get fine and uniform fine particles, and the working speed is faster than manual operation.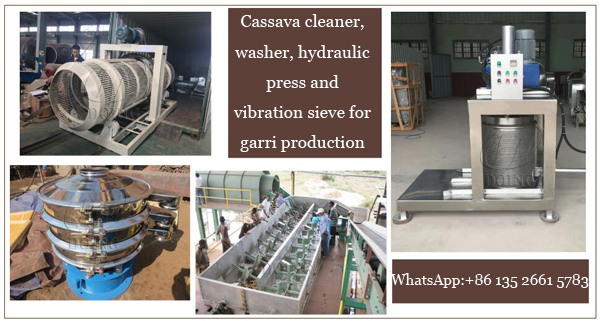 Other garri processing machines
China Doing Company as a professional cassava processing machine manufacturer, have rich experience in making garri processing machines. If you want machines to speed up your garri production, welcome to contact us, we can offer suitable machines to you.
Leave A Message
More information about What machines can you use to speed up garri production?, please contact us, we will get back to you ASAP.