HomeFAQ How to choose suitable garri processing equipment for garri processing plant?
Now more and more investors choose the automatic garri processing equipment for garri processing plant instead of the manual labor work because its more efficient and higher economic benefit. But how to choose suitable garri processing equipment? As a professional, I suggest you to make choice combined with the following four aspects: production capacity, processing technology, equipment material and manufacturer qualification.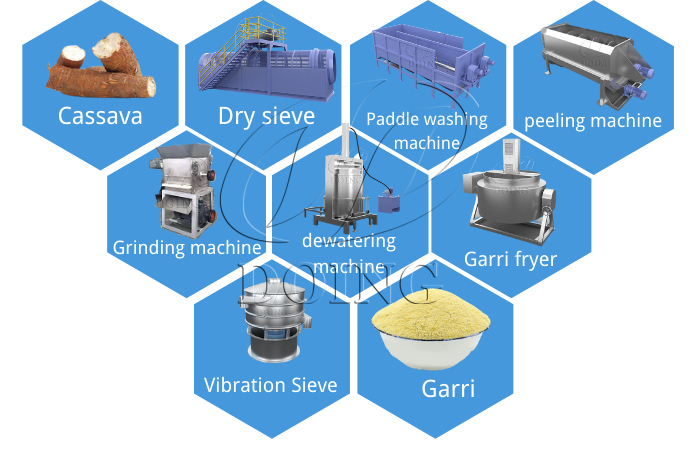 Garri processing equipment
Production capacity:
First of all, you need to identify the processing capacity to further confirm that your equipment investment budget is in line with. If your requirement of production capacity is small and your investment budget is relatively small, you can start small scale garri processing plant equipped with several major equipment such as cassava peeling machine, cassava grating machine, hydraulic press and garri fryer. If your production capacity is relatively big, such as 20t/d garri processing line, you can choose a complete set garri processing equipment to realize the automated garri processing. This will reduce manual intervention and improve the garri production efficiency.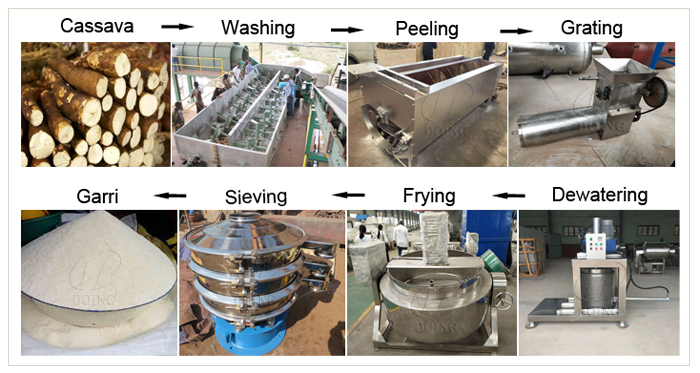 Garri processing equipment
Processing technology:
When choosing garri processing equipment, you must pay attention to the equipment processing technology. Advanced equipment processing technology will make the garri processing efficiency twice the result with half the effort. In the case of cassava peeling machine, there are mainly four kinds of cassava peeling machine in the market, and they respectively adopt plastic brush, wire brush, nail roller and emery roller peeling processing technology. Comparatively, the emery roller cassava peeling machine produced by Henan Jinrui Company has the advantages of long service life, convenient operation, and easy maintenance. The peeling rate of cassava is as high as 95%.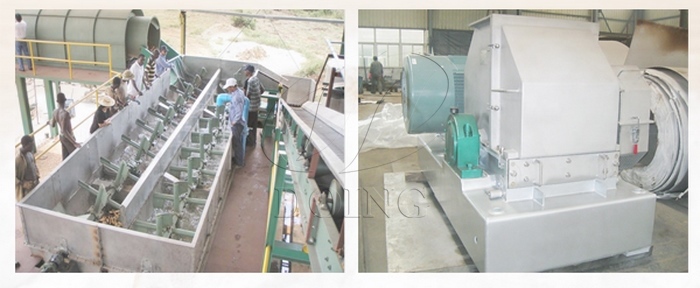 Cassava peeding machine
Equipment material:
The equipment material also an important factor you need to pay attention, there are two kinds of materials, they are 304 stainless steel and carbon steel. According to the professional engineers of advice, the equipment parts which have contact with the material, such as garri fryer, should adopt the 304 stainless steel material. Carbon steel garri equipment is susceptible to corrosion and has a relatively short service life. While 304 stainless steel garri processing equipment not only have longer service life, but also improve the taste and hygiene of the finished garri product.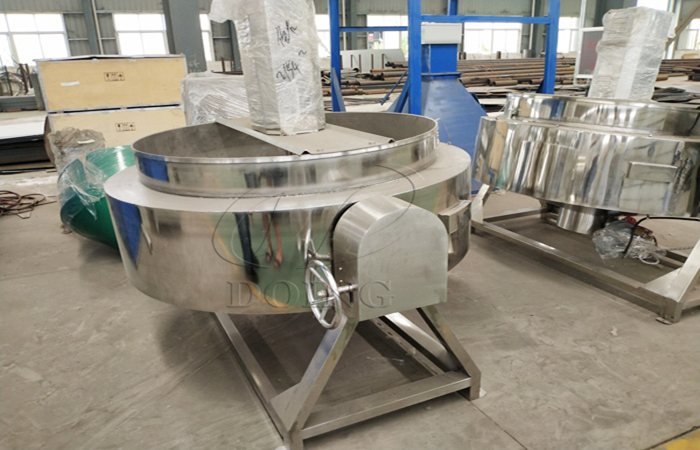 Garri fryer
Manufacturer qualification:
A professional garri processing machine supplier can not only have professional R&D team to supply suitable garri processing equipment according to your requirement, but also have the ability to offer you complete after-sales service, like customized service, technical installation instruction, equipment debugging, worker training, and feedback survey of equipment usage feeling.
Henan Jinrui Company has more than 10 years garri processing machine manufacturing experience and helped many clients install the garri processing plant all over the world, like Nigeria Nigeria, Tanzania, Indonesia, Ghana, Kenya,etc. If you have interests, please contact with Henan Jinrui Company at time. Our sales manager will help you choose the suitable garri processing equipment at factory price.
Leave A Message
More information about How to choose suitable garri processing equipment for garri processing plant?, please contact us, we will get back to you ASAP.