HomeProductCassava peeling machine / Cassava peeling machine
Cassava peeling machine
1. Cassava peeling machine introduction
Just as its name says, cassava peeling machine is used for peel the gray peels of cassava to make it easier to be processed. It is widely used in garri processing line, cassava flour processing line and even cassava chips processing line. In cassava peeling process, the cuticle part of cassava is removed so that it will not influence the taste of cassava processing products.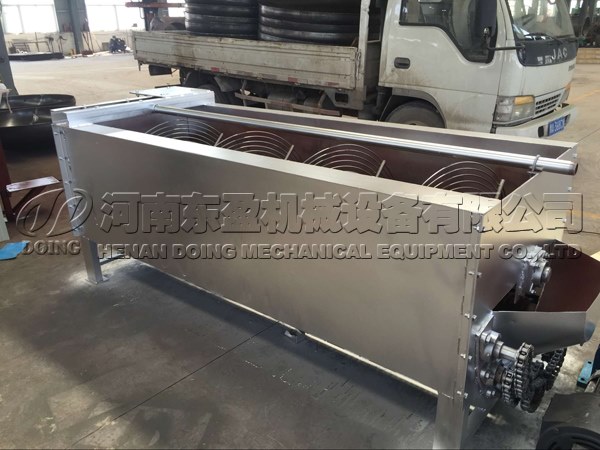 Cassava peeling machine ready for shipping
2. Working process of cassava peeling machine
When cassava peeling machine works, cassava enters cassava peeling machine, the motor drives the cassava brush to rotate, which causes the cassava and the brush to rub against each other, and meanwhile the cassava also rubs against each other, so that the cassava is peeled by the friction principle. While the cassava is peeled, the conveyor screw drives the cassava to roll forward and transfer the peeled cassava to the next section. And the peels of cassava and other debris fall into collection tank.
3. Technical parameters:
| | | | | |
| --- | --- | --- | --- | --- |
| Model | Capacity(t/h) | Power(kw) | Dimension(mm) | Weight(kg) |
| DYTP-40 | 0.5-1 | 3 | 3250*1050*1100 | 1200 |
| DYTP-60 | 1-2 | 5.5 | 4250*1050*1100 | 2000 |
| DYTP-80 | 3-4 | 7.5 | 5250*1050*1100 | 3000 |
Cassava peeling machine working process
4. Structure of cassava peeling machine
Cassava peeling machine mainly composed of frame, upper cover, motor, reducer, brush roll, spraying system, transmission system, screw conveyor.
Frame and upper cover are basic structure of cassava peeling machine, the upper cover can be opened, but when working, it is normally closed to ensure cassava not be polluted.
Motor is used to provide power for cassava peeling mahcine. Reducer can control the running speed of cassava.
1) Peeling brush: it is used to rub cassava to peel its gray peels and the 2mm thick cuticle part of cassava.
There are two types of brush, one is stainless steel type brush roll, and the other is emery roll. You can choose according to your demand.
The emery roll can be designed with three different stick with different densities, the densest at the beginning, a little thinner in the middle, and less in the end part. The part close to cassava input port is most densest for it need to peel most peels of cassava.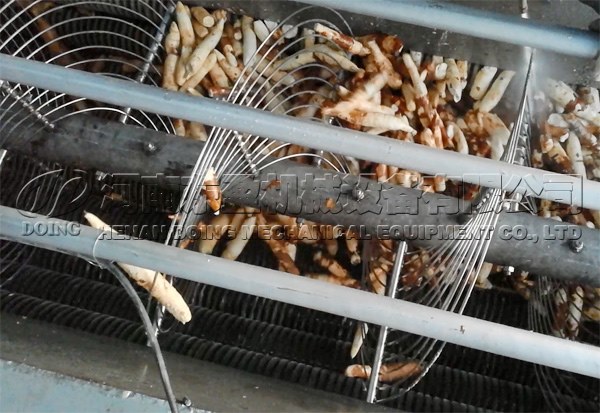 Equipment inner stucture
2) Transmission system and screw conveyor: Transmission system providing power and screw conveyor to transport peeled cassava forward. By adjusting the transmission speed, the cassava peeling effect can be adjusted. Doing Group can dispatch professional engineer for equipment debugging, to ensure better peeling effect.
3) Spraying system: to wash way cassava peels and meanwhile wash peeled cassava to ensure it is clean.
4) Discharging part: to discharge cassava peels and other debris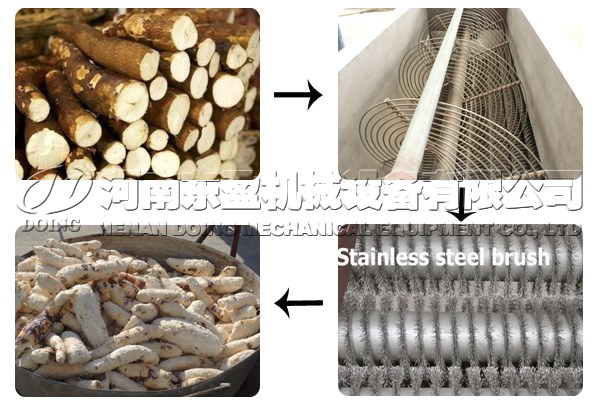 Peel cassava process
5. Features of cassava peeling machine:
a. High peeling rate: (more than 95%) Because cassava is big and has irregular shape, cassava peeling can not achieve an effect of 100% peeling. In this situation, manufacturer that has higher cassava peeling rate and less cassava breakage rate is more competitive. DOING has engaged in cassava processing machines for decades of years and has projects in Nigeria, Tanzania, Liberia, Ghana, our equipment is constantly updating and cassava peeling machine is mature in technology and high in efficiency.
b. Saving water: The spray system design using less water than direct wash.
c. Compact structure: though cassava peeling machine has a capacity of 0.5t/h to 5t/h or larger, it only covers a small area.
d. Easy to operate and maintain: only one or two workers are needed for operate cassava peeling machine. Save a lot of labors than manual peeling. DOING engineer will train workers skill and knowledge about cassava peeling machine so that they can maintain it, and we also provide one year after sales service, the maintain and repair of equipment is free within one year.
Besides, cassava peeling machine has the features of High efficient, stable and reliable operation as well as good motor configuration.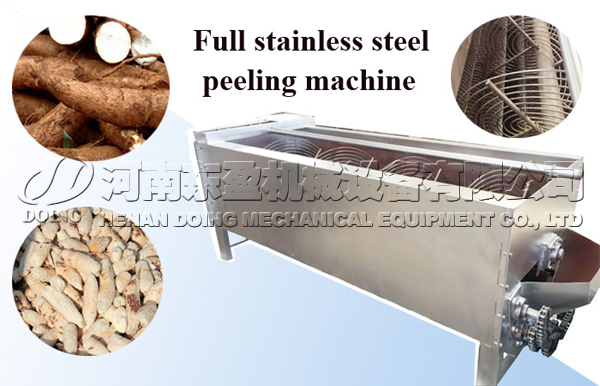 Cassava peeler
Due to its easy-corrupt property, cassava is generally processed into garri, flour cassava chips and other storage resistant products in Nigeria and other Africa countries. Garri processing takes up almost 70% cassava processing in Africa, and garri processing is gradually mechanized with the economic and industrial develops, however, cassava peeling machine is always a headache because most peeling machine can not achieve a 100% peeling rate. DOING engineer has more than 30 years of experience in cassava processing machine, our equipment is high efficient and cost effective, welcome your consulation.
Leave A Message
More information about Cassava peeling machine, please contact us, we will get back to you ASAP.