Home>Product>Cassava washing machine
Cassava washing machine
Cassava washing machine introduction
Cassava washing machine is for washing cleaned cassava to make sure all the impurities be washed away. For different products, cassava washing has different requirements. For example, garri processing has the highest requirements for washing for it may influence the quality of garri. Cassava flour or cassava starch processing has low requirements for washing they can remove sand by a desander in latter stage.
According to the difference in capacity, cassava washing machine can be designed to single slot or double "S" shape slot. They can be customized based on your need on capacity. Cassava washing machine normally located between a dry sieve and a belt conveyor. Its detail location is determined by the size and shape of the whole workshop. Our engineer can also arrange the layout of workshop and cassava processing equipment reasonably for you according to the factory map provided by you, and save space for you.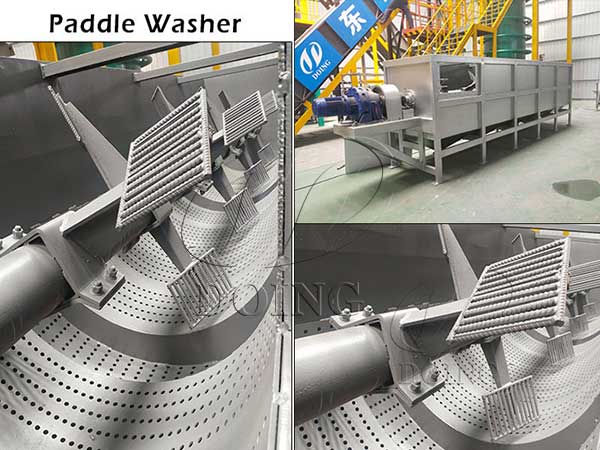 Cassava washing machine working
Structure of cassava washing machine:
Cassava washing machine consists of the frame, one or two array of paddle, the collection tank, the fixed shaft, the sinking device, a bottom net device and the like. The paddle is for flip cassava to make it move forward. Fix shaft is to fix the machine to avoid cassava washing machine out of shape due to long time usage. Sink device is a necessary design for it allows sand, soil and other debris sink to the collection tank, so that the washing slot is always clean. In addition, the bottom of cassava washing machine is designed with the discharge valve, which can manually discharge debris.
For double slot cassava washing machine, there is one feeding port and two washing stage, the first washing stage using process water and the second using clean water, which can achieve good washing effect and meanwhile saving water for producers.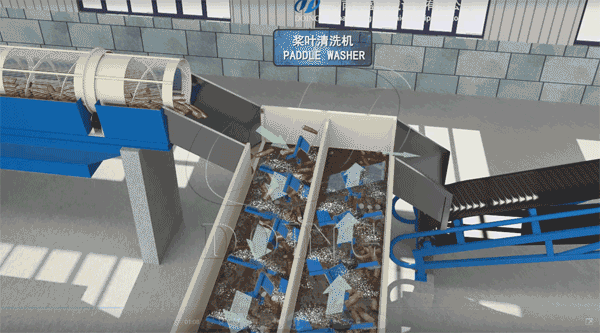 Cassava washing machine working video
Technical parameters of cassava washing machine:
| | | | |
| --- | --- | --- | --- |
| Model | QXJ100 | QXJ120-1 | QXJ120-2 |
| Capacity(t/h) | 10-15 | 20-30 | 20-40 |
| Material | Carbon Steel | Carbon Steel | Carbon Steel |
| Diameter of paddle(mm) | Φ1000 | Φ1200 | Φ1200 |
| Motor speed(r/min) | 21 | 18 | 18 |
| Working length(mm) | 5500 | 6600 | 6600 |
| Power(kw) | 5.5*2 | 7.5*2 | 7.5*3(4) |
| Dimension(mm) | 7750*2300*2000 | 8700*2700*2000 | 8700*5400*2000 |
| Weight(kg) | 4050 | 6100 | 8760 |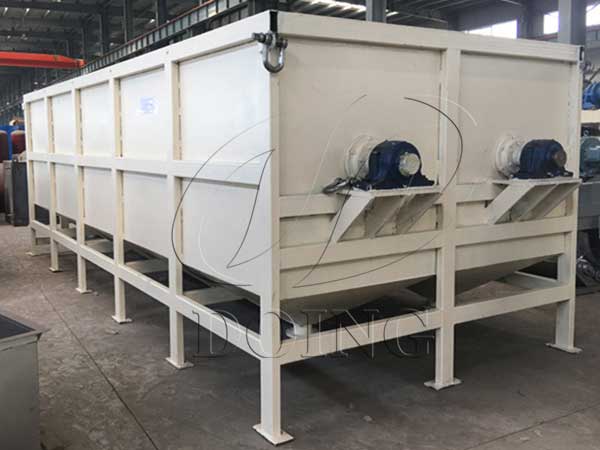 Cassava washing machine
Working process of cassava washing machine:
Cassava washing machine adopts countercurrent washing principle, that is to say, the washing water and cassava run in opposite direction in the washing slot, thus can achieve a better washing effect and save waters in the whole process.
When working, the paddle of cassava washing machine flip cassava forward, the washing water flows from the other side, the debris that can not be cleaned by dry sieve can be washed away here. The washed sand, soil and other debris sink into the collection tank through the bottom net device, and the debris is cleaned by workers regularly.
Washing machine also has the function of peeling cassava, in the washing process, there are friction between cassava and paddle, and even between cassava and cassava, therefore most of the gray cover can be removed. For those who want a better peeling effect, we can also install a interval device in cassava washing machine to increase the friction between cassava, so as to achieve better peeling results. A more simple method is to control the amount water used in washing process, and intermittently reduce the water amount to increase friction between cassava to improve cassava peel effect.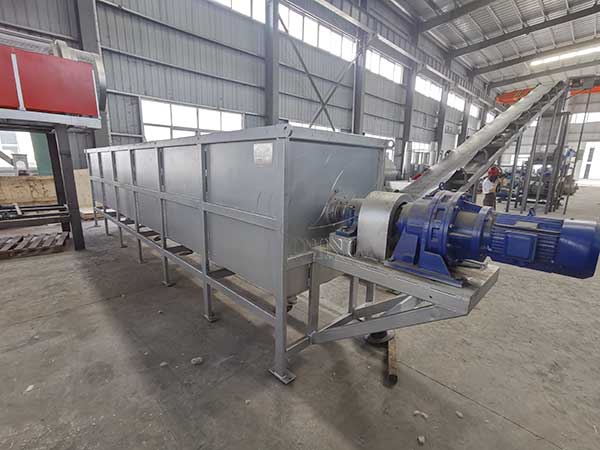 Cassava washing machine ready for shipping
Advantages of cassava washing machine:
1. Adopting countercurrent washing method which can achieve a better washing effect.
2. Stable running speed (18r/min) can ensure cassava keep intact, reduce cassava breaking rate.
3. Saving water: In starch, flour even garri process, process water can be used for washing, thus consume less water.
4. Large capacity & small footprint: Its capacity ranges from 10t/h to 50t/h and even larger, but only requires a small footprint.
5. Reasonable design: sink device, discharge valve and collection tank ensures cassava washing machine in clean stage, no need to clean, and keep the whole plant clean.
6. Good washing and peeling effect, easy to use, low maintenance cost.
Leave A Message
More information about Cassava washing machine, please contact us, we will get back to you ASAP.
Do you want to buy machine?
Yes, I want to buy machine
No, I Just learning
What is your raw material?
Cassava
Potato
Sweet potato
Others
2. What is the final product you want to produce?
Garri
Cassava flour
Cassava starch
Cassava chips
Attiekie
Bammy
Others
3.What is your capacity plan?
Small scale garri machine
1ton per day
2tons per day
3tons per day
10tons per day
20tons per day
Others
3.What is your capacity plan?
Small scale
5tons per day
10tons per day
20tons per day
50tons per day
100tons per day
Others
3.What is your capacity plan?
Small scale
5tons per day
10tons per day
20tons per day
50tons per day
100tons per day
200tons per day
300tons per day
Others
3.What is your capacity plan?
Small scale
Middle type
Large scale
What is your capacity plan?
Small scale
5tons per day
10tons per day
20tons per day
50tons per day
100tons per day
200tons per day
300tons per day
Others