HomeFAQ Dry cassava chips processing
In the global market, except the cassava starch, dry cassava chips are the most popular cassava products, the importer buy dry cassava chips for animal feed or for further processed into starch. Compared with cassava starch or cassava flour processing, the dry cassava chips processing more easily, the processing costs also more affordable. High quality dry cassava chips processing steps are: cassava cleaning and peeling - cassava slicing - cassava chips drying - packing.
1. Cleaning and peeling:
For the cassava cleaning and peeling, Doing Company supply cassava cleaning and peeling all-in-one machine, its an automatic process. Certainly, to get better cleaning effect, choose professional cassava cleaning and washing machine will be a good decision, Doing Machinery cassava cleaning and washing machine(dry sieve and paddle washer) widely used in customer's cassava starch/flour processing plant with a good evaluation.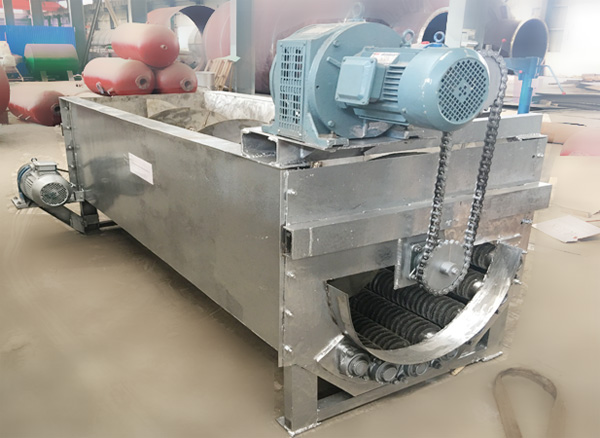 DOING cassava peeler
For dry cassava chips processing, dry sieve widely used in impurities removal for cassava, it's effective in removing dirt, sand, small stones, weeds and other impurtities on the surface of cassava. Then in the process of dry cassava chips processing, the paddle washer adopted for further cassava washing, which has the advantages of long effective cleaning distance, good separation effect of impurities, low power configuration, the space occupied by the machine is small.
2. Cassava slicing:
The second step of the dry cassava chips processing is cassava slicing. Doing Company cassava slicing machine with high working efficiency, easy operation and stable performance. The cutting angle can be customized. If you have any special requirement, please tell us freely. By the way, the chips thickness and cutting speed can be adjustable according to your requests.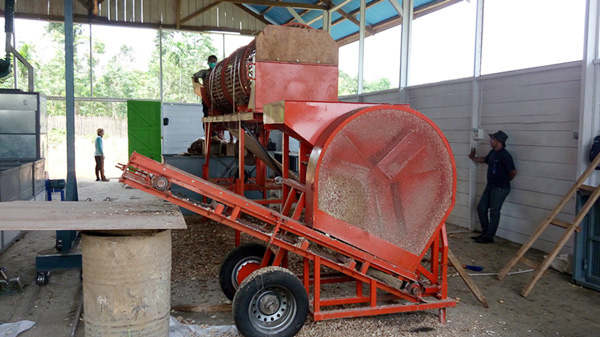 Cassava slicing machine
3. Cassava chips drying process:
After the cassava chips cutting process, the cassava chips still with high moisture, it should to be drying to make it can storage long time. It's worth to tell you that the drying machine is the key equipment in the process of dry cassava chips processing. Doing Factory supplied DW series belt dryer is a continuous drying equipment used in batch production. The cassava chips drying machine has the advantages of high drying speed, high evaporation intensity and good product quality.
DOING cassava chips belt dryer distributes the material to be processed through an appropriate auxiliary material mechanism, such as star distributor, swing belt, pulverizer or granulator on the conveyor belt. Each passage has one or more dehumidifying systems, and when the conveyor belt passes, hot air from top to bottom or from bottom go through the conveyor belt material, so that the cassava chips can dry evenly.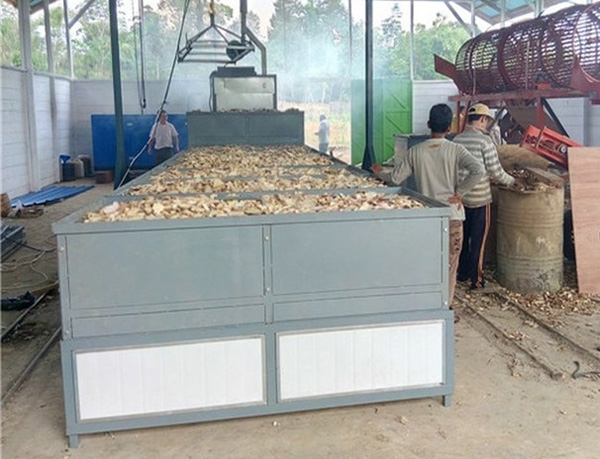 Cassava chips drying machine
4. Packing:
This machine is made of 304 stainless steel with automatic feeding, measuring, bag-making, deviation, filling, sealing, date printing and finished product output.Simple and fast bag size changeover without tools. Also easy to maintain-low maintenance, work environment quiet, low noise, saving energy. It's the idea choice for large and medium-sized cassava chipping machine design. It's also the last step of dry cassava chips processing.
In modern society, cassava production is well-developed as an organized agricultural crop. Cassava is native to Brazil, and it was widely spread by the Portuguese in tropical and subtropical regions of Africa, Asia and the Caribbean from the 16th to the 17th century. According to the World Food and Agriculture Organization of the United Nations, there are 105 countries planting cassava in the world, with an annual root production of about 230 million tons, half of which are produced on the African continent. Cassava, which is rich in starch in the form of carbohydrate, has multiple uses. It is consumed in many processing forms, in the industry and also as livestock feed. Roots or leaves are made into flours.
To sum up, Doing Group is professional of cassava chipping machine design and manufacture, any questions or requests for dry cassava chips processing machine and technical process, just contact us.
Leave A Message
More information about Dry cassava chips processing, please contact us, we will get back to you ASAP.