Home>FAQ How to start a garri factory ?
About how to start a garri factory, except the investment preparation, you also need to select the land to install the garri factory, the most important is the garri processing machine select and buy.
As you know, cassava tubers are uprooted and peeled, washed and grated to produce a mash, then the mash is placed in a porous bag and allowed to ferment for one or two days, while weights are placed on the bag to press its water out. It is then sieved (or sifted) and roasted by heating in a bowl. The resulting dry granular garri can be stored one month. It may be pounded or ground to make fine flour. Garri production can be mechanized for commercial purposes in the factory production. This is a traditional way to process garri, but this way is not an effcient way. If this whole processing is mechanization production line. It will save a lot of time and labor. Do not worry, Doing company will give you the answer to the question how to start a garri factory, offer the mechanization production machine for your garri business.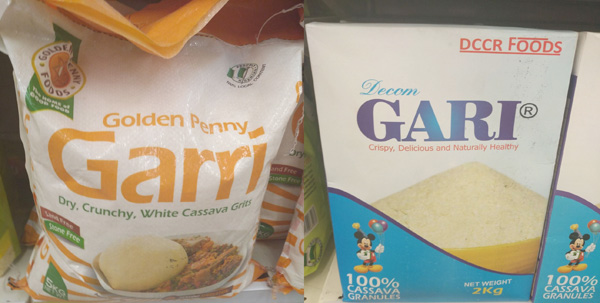 Garri products
The first step for how to start a garri factory is to have enough raw materials.Then the building is necessary. If you want to build a large scale garri processing plant, then you should design your garri factory. While if you want to build a small scale garri factory, you do not need a large piece of land.
However, if you want to build a large scale plant, you have to consider land preparation. The following part is the mechanization process of how to start a garri factory:
1.Cassava cleaning and washing machine
Fresh cassava are transported by conveyor to dry sieve so as to remove dirt, sand , small stones, weeds and other impurities on the surface of cassava. Then those cassava having been simply cleaned are washed by paddle washing machine. The cassava are pushed forward by paddles, so they can flow in the rinse tank in the converse direction against water current. Thus the raw materials are washed completely. This is the first section in the making process of how to start a garri factory.
2.Cassava peeling machine
Those clean cassava are transported to cassava peeling machine. The machine rotate its spindles to push cassava moving forward slowly. There are stainless steel wires on the bottom of the groove of cassava peeling machine. In the process, stainless steel wires peel the outer peel and subcutaneous cuticles of cassava.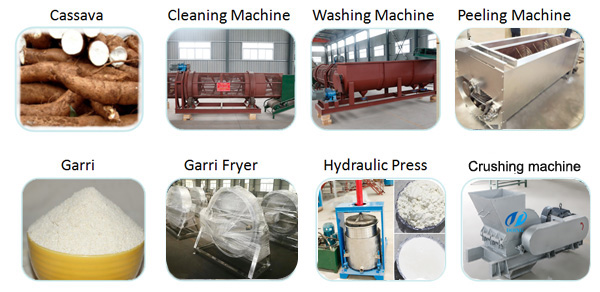 DOING garri processing machines
3. Cassava grinding machine
Then grater crushes materials into cassava mash. Feeding and discharging can happen at the same time. It has features of modern design, compact structure, high speed and high rasping coefficient. Cassava grinding plays a key part in the making process of how to start a garri factory.
4.Automatic press dewatering machine
After crushing, the cassava mush should be put on some places for several days for fermentation. Dewatering machine use the principle of hydraulic press. It will directly squeeze the water of material and discharge out of charging barrel. The step is necessary in the making process of how to start a garri factory.
5.Garri frying and packing machine
Those dewatered cassava is fried by garri fryer. It is an automatically frying device which can also control the temperature by itself. It mainly consists of pan frame, stirring part, heating part and driving part, discharge part and others. Then after sieving by vibration sieve, the final product will be packed by packing machine. By the way, to get high quality garri products, better equipped one set of vibration sieve for garri sieving before packing.
To sum up, about how to start a garri factory, Doing Company will a good supplier for all the garri processing machines, by the way, we also can give you the suitable suggestion for your garri factory establish.
Leave A Message
More information about How to start a garri factory ?, please contact us, we will get back to you ASAP.