HomeFAQ Cassava mechanised garri processing
The mechanised garri processing means the garri processing from cassava made by machines rather then manpower. Compared with the hand-made garri, mechanised processing faster, larger capacity, produced garri quality can be guaranteed to meet the market demand. So if you want to start a business from garri processing, choose the modern mechanised garri processing way is essential.
The complete set of machines from Doing Company for mechanised garri processing are: cassava washing machine, cassava peeling machine, cassava grater, hydraulic press dewater, garri fryer, garri frying machine and the packaging machine.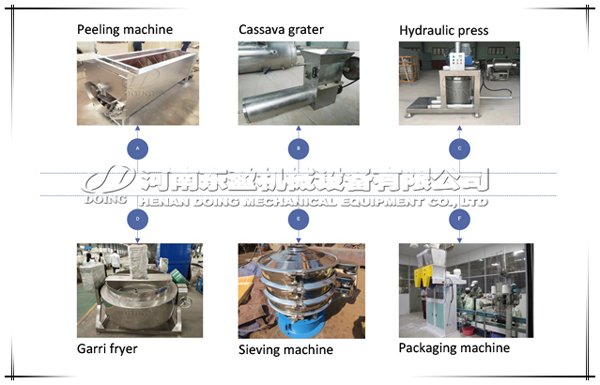 Main garri processing machines
Modern high quality mechanised garri processing method first step is fully cleaning the cassava, then peel the cassava. Next peeled cassava send to the cassava grater machine to crush into cassava mash or pulp. DOING cassava grater machine structure is easy, automatic separate the residue, the machine adopt the spur-free saw blade to broken cassava, design and fabriation by the garri processing request features, ensure produced garri taste good. You can click cassava grater machine to see the video for this machine working process.
After grating, put the cassava mash into sealed bags for fermentation, after fermentation, put the bags into the hydraulic press machine to remove the water from cassava mash, then crush it and put into the garri frying machine, during frying, you can add the palm oil to produce the yellow garri. It's worth to say that Doing Company garri frying machine is an automatic working process, good quality material and reasonable design to make the garri heating evenly, no paste.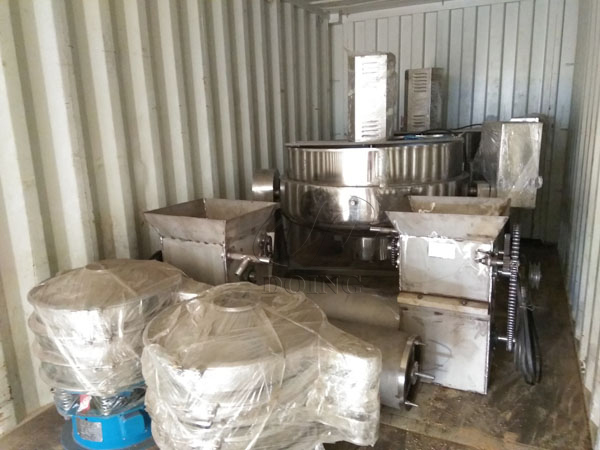 Garri processing machine packing and delivery from Doing Company
Produced garri from mechanised garri processing method best sieved to get higher quality garri goods, after sieving, send garri to automatic packaging machine to packed as your requests.
Finally, to meet the market demand for garri products, choose mechanised garri processing is right, only mechanised method can get a steady and high quality products to help you to make your own business. In 2018, Doing Group has been complete one set of garri processing machines with capacity one ton per our for one of our Nigeria customer. For the machines design and manufacture of mechanised garri processing, Doing Company is professional, we welcome you to visit our factory to see the machines.
Leave A Message
More information about Cassava mechanised garri processing, please contact us, we will get back to you ASAP.