Home>FAQ What points should we pay attention during garri processing?
The garri processing process has also become more regulated for food safety and public health reasons. So, what points should we pay attention to during garri processing? This is not just a concern for those who own a garri processing plant, but also those who want to invest in garri processing. This article will explain the points that you should pay attention to from each step of garri processing.
The machines used in garri processing include cassava washer, peeler, grater, hydraulic presser, garri fryer and packer. [See also: Complete set modern garri processing machine with capacity of 2~8 tons/hour] You can understand the working process of garri processing from this bellow picture.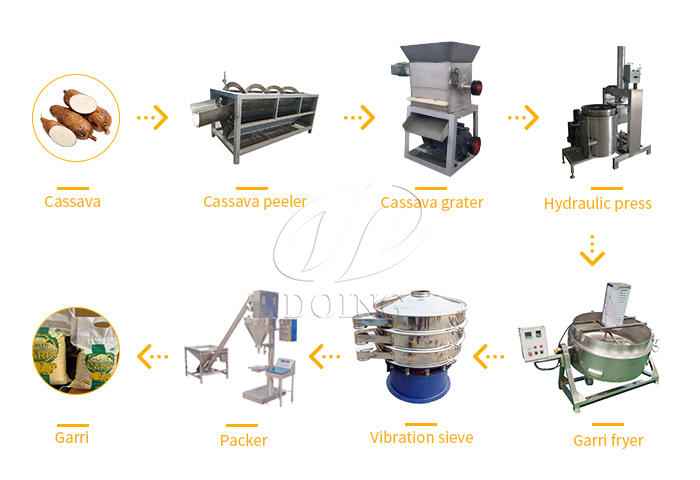 Garri processing machine
Next pls check some points we need to pay attention during garri processing:
1.Cassava washer: Remove impurities such as mud and sand by cassava washer, such as dry sieve and paddle washing machine.
Note: The combination of cassava washer can enhance efficiency of washing cassava greatly so that to produce high quality garri. But you should check the water source regularly to ensure that it is not dirty or contaminated.
2. Cassava peeler: Peel the cassava roots, remove the outer brown skin and part of the inner thick cream layer, while avoiding excessive damage to the raw materials.
Note: If you want to completely remove the thick creamy layer inside, you will need to use human power or soak the cassava roots in water and then remove them by hand.
3. Cassava grater: Fermentation is required for garri processing, and cassava is broken to facilitate fermentation. Cassava roots or slices enter the grater and are then grated into the cassava slurry between rotating nail roll and rotary drum while the engine is running with the electricity as power.
Note: In order to meet food consumption standards, the grating drum and all food contact areas should be made of stainless steel.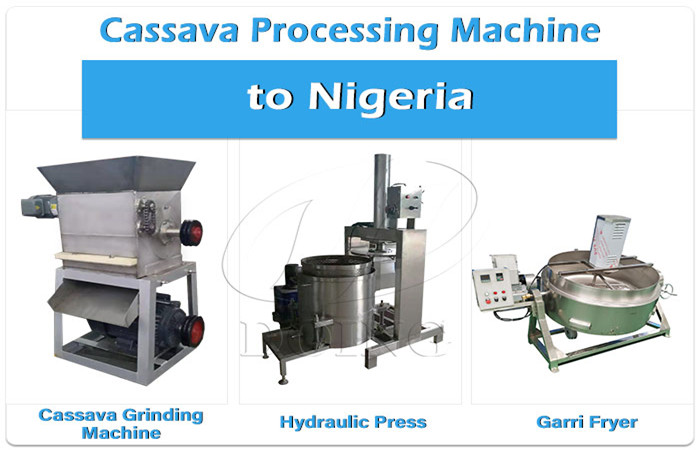 Cassava garri processing machines
4. Hydraulic presser: Load the bags filled with garri after fermentation directly on to a hydraulic press to remove extra water.
Note: In order to guarantee the quality of finished garri, all the part of the equipment in contact with the material is made of stainless steel.
5. Cassava garri fryer: Use full automatic garri fryer which is made of stainless steel material and with electricity, diesel, natural gas, firewood or charcoal as the heat source to roast garri mechanically. Add palm oil to roast, you can get yellow garri.
Note: You need to choose the heating method of the garri fryer according to your actual local situation. Generally, the use of firewood is cost-effective, but considering emerging environmental concerns, electric, natural gas and diesel oil heatings become more and more common.
6. Garri packer: Pack required quantities into a woven polythene sack with a plastic lining, seal or stitch the sack to keep the garri clean and fresh during storage.
Note: Properly label the packages according to the standards of national regulatory agencies.
The above is what points we should pay attention during garri processing. Hope this will help you. Welcome to inquiry Henan Jinrui if you have any other problems about garri processing!
Leave A Message
More information about What points should we pay attention during garri processing?, please contact us, we will get back to you ASAP.
Do you want to buy machine?
Yes, I want to buy machine
No, I Just learning
What is your raw material?
Cassava
Potato
Sweet potato
Others
2. What is the final product you want to produce?
Garri
Cassava flour
Cassava starch
Cassava chips
Attiekie
Bammy
Others
3.What is your capacity plan?
Small scale garri machine
1ton per day
2tons per day
3tons per day
10tons per day
20tons per day
Others
3.What is your capacity plan?
Small scale
5tons per day
10tons per day
20tons per day
50tons per day
100tons per day
Others
3.What is your capacity plan?
Small scale
5tons per day
10tons per day
20tons per day
50tons per day
100tons per day
200tons per day
300tons per day
Others
3.What is your capacity plan?
Small scale
Middle type
Large scale
What is your capacity plan?
Small scale
5tons per day
10tons per day
20tons per day
50tons per day
100tons per day
200tons per day
300tons per day
Others