HomeNewsIndustry news Popular cassava peeling machine in Ghana
Because cassava skin contains toxic hydrides, cassava peeling is necessary before it is further processed. In Ghana, traditional cassava peeling is generally finished by manual method, which not only requires a lot of labors, but also is low in efficient. According to reports, it takes an average of 90 hours to process 100 kg of garri per person. And 65% of the garri production is used for peeling. Therefore for large-scale cassava processing, artificial peeling is far from meeting production efficiency, mechanical cassava peeling machine is necessary.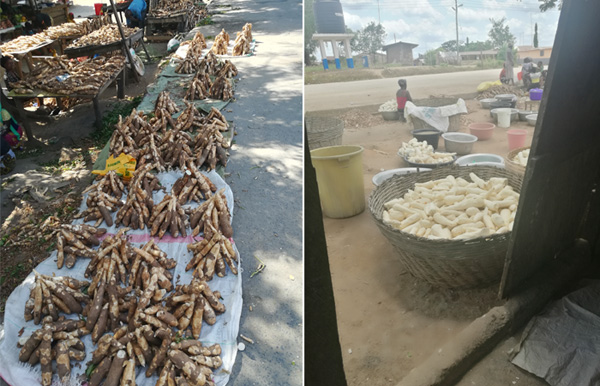 Manual cassava peeling
Although the government of Ghana encourages the mechanized production of cassava, the peeling of cassava in Ghana is still dominated by hand, and the level of mechanization is not high. In order to alleviate the problem of low efficiency of cassava peeling, large-scale garri manufacturers have begun to seek automated peeling equipment instead of manual to improve production efficiency. China is one of their main choices, because China's cassava peeling machine has the same quality with European equipment, but are more cost-effective.
Doing Company is a professional manufacturer of cassava equipment. Our peeling machines are exported to Ghana, Nigeria, Tanzania and other African countries, is welcomed by Ghanaian customers. Our peeling machine is designed and manufactured according to the characteristics of cassava, which peel cassava by friction principle. Its main structure consists of a motor, a transmission, a doll, and a brush. The peeling efficiency is high, and the processing capacity can be from 0.5kg/h to 5kg/h. Of course, we can also customize a larger cassava peeling machine according to customers' needs.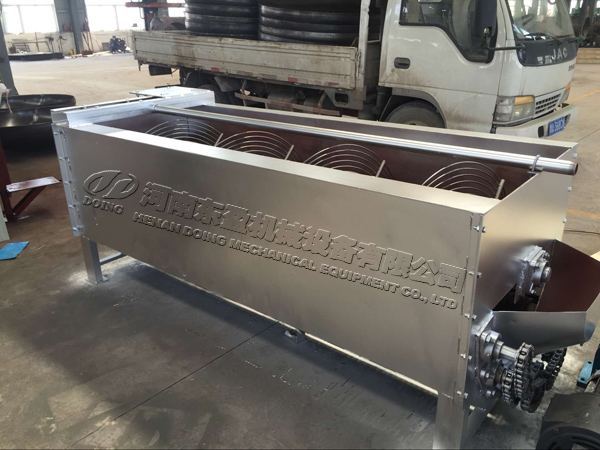 Cassava peeling machine
The main features of this cassava peeling machine:
1. Our cassava peeling machine has the characteristics of beautiful appearance and convenient operation, continuous cleaning and simple operation.
2. Durable, good wear resistance and long service life
3. It can be widely used in the peeling of round and oval fruits and vegetables, such as carrots, hawthorn, potatoes, sweet potatoes and cassava.
4. The cassava peeling machine has large volume, large processing capacity, high efficiency and low energy consumption.
5. The conveying part of the machine is made of stainless steel, which runs smoothly and meets the requirements of food hygiene.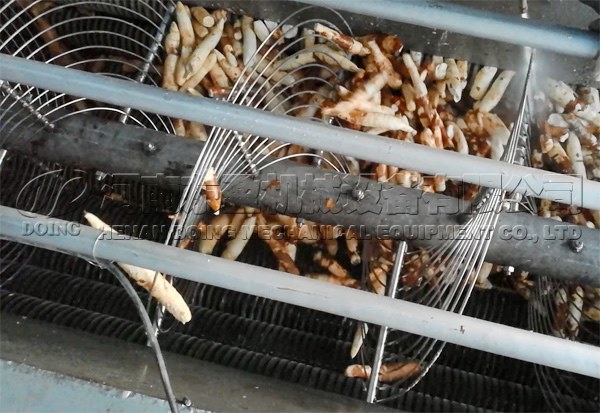 Mechanical cassava peeling
However, because cassava is relatively large in size and irregular in shape, mechanical cassava peeling machine can not reach 100% as manual peeling. But DOING engineer adopts international technology, designed this cassava peeling machine can achieve a peeling rate of more than 94%, which can basically remove the outer peels of cassava.
Cassava peeling machine manufactured by China is widely welcomed by the Ghanaian people as a device for improving the efficiency of cassava production. And we Doing Company has oversea warehouse in Nigeria, and our cassava processing machine will be available for purchase in the warehouse in the near future. If you want a cassava peeling machine in Ghana, you may leave us a message and we will contact you.
Leave A Message
More information about Popular cassava peeling machine in Ghana, please contact us, we will get back to you ASAP.