HomeNewsDOING news DOING overseas branch in Nigeria is officially established
In November 2019, Doing Company overseas branch in Nigeria is officially established. Our overseas office manager officially takes office in the overseas office and will be stationed overseas.
| | |
| --- | --- |
| In March 20019 | The chairman and sales managers of Doing Company went to Nigeria to do preparation work for building the overseas warehouse. |
| On August 10, 2019 | DONG completed the construction of overseas warehouses and offices |
| On August 30, 2019 | DOING sent first batch cassava processing machine to Nigerian overseas warehouse |
| In November 2019 | Overseas office manager of Doing Company formally takes office, and the overseas office of Doing Company was formally established. |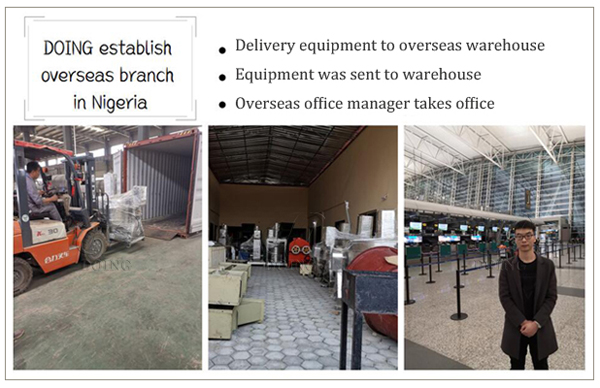 DOING overseas branch in Nigeria is officially established
What services can Doing Company overseas branch provides to customers
1. Customers can visit the factory and buy equipment directly
Thanks to the support of the Nigerian government, the cassava processing business is develops well in recent years. More and more people are interested in the cassava processing business and consult us about cassava processing equipment. However, for those who only buy one or two pieces of equipment, it is too expensive to ship the equipment from China to Nigeria. But with overseas branch, they can buy the equipment directly from our overseas warehouse, saving transportation cost and time.
2.Our overseas managers can visit customers in person to better understand the customer situation and provide customers with better solutions
With an overseas branch in Nigeria, our overseas managers can visit customers in person, communicate face to face with them, and better understand customer needs. For new cassava processing business starters, we can provide them with better equipment proposals according to their requirements. For customers who want to renovate their old factory, our overseas managers and even engineers can visit the customer's factory in person to better improve the renovation plan for the customer according to the customer's factory operating conditions and equipment loss. So with a overseas branch in Nigeria, we can provide better solutions to customers.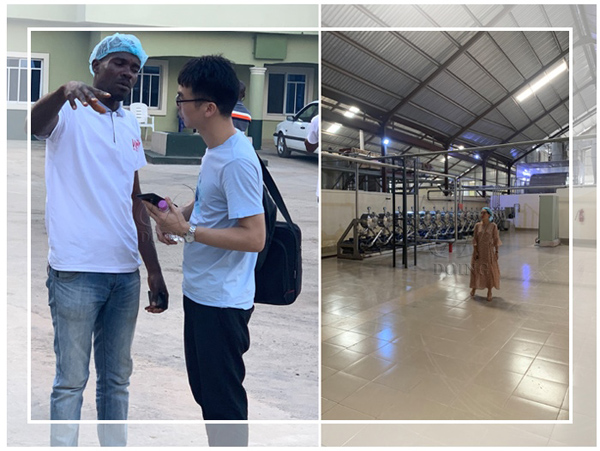 Our overseas managers visit customer's factory
3. Provide customers with better after-sales service
For large-scale cassava processing plant projects, during the equipment installation phase, most equipment manufacturers will provide a dedicated team of engineers go to customers' factories to perform equipment installation, commissioning, and operator training services. But after the factories run, customers will need to solve most problems by themselves. While with a overseas branch, customers can go to our overseas office for help when they have any problems with their projects and equipment. For example, if the equipment parts are worn out or lost and need to be replaced, our overseas office staff can find matching parts for you which is very convient. Or if some equipment fails to work due to improper operation or other reasons, we can also help customers repair it.
For small and medium projects, they only purchased several or only one equipment, normally they need to operate and repair equipment by themselves. And many customers told their concerns about that they do not know how to operate equipment and can not find people to repair them. With overseas branch in Nigeria, these will not longer be a problem. Once they have any problems with our machines, they can contact our overseas personnel, we will teach them how to use the equipment and provide them with a year of repair service. Even after a year, we can also repair equipemnt for them.
Therefore if you want to start cassava processing business, you can leave us a message, and we will arrange our overseas office manager to meet you.
Leave A Message
More information about DOING overseas branch in Nigeria is officially established, please contact us, we will get back to you ASAP.