HomeNewsIndustry news Why do African people choose to buy garri processing machine in China ?
With the updating of garri processing technology, more and more Africans choose to make garri by using mechanical equipment rather than laborious manual processing. Small farmers prefer small semi-automatic garri production workshop, so that they can increase production efficiency, reduce labor intense, improve garri quality and increase income. While investors prefer large and medium-sized garri processing plants for they can produce high-quality garri for selling to gain more profits. And according to feedback most garri producers prefer to buy garri processing machine in China. So why is China's garri processing machine is so popular in Africa?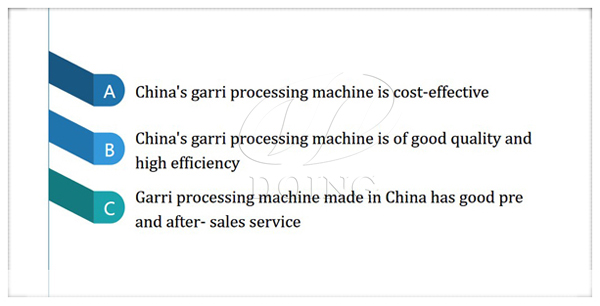 Why do African people choose to buy garri processing machine in China?
First of all, China's garri processing machine is cost-effective.
In addition to China, Europe, Southeast Asia, Africa and other countries also have garri processing machine, but China's cost performance is the highest. European equipment is characterized by high quality but at a high price. China's equipment is technically closest to European technology, but the price of Chinese equipment is actually one third times lower than the price of European equipment. The quality and craftsmanship of equipment in Southeast Asia is not as good as that of Chinese equipment. Equipment in Africa has lower price but its efficiency is relatively low. Therefore, considering the cost performance comprehensively, China's garri processing machine is the most popular among Africans.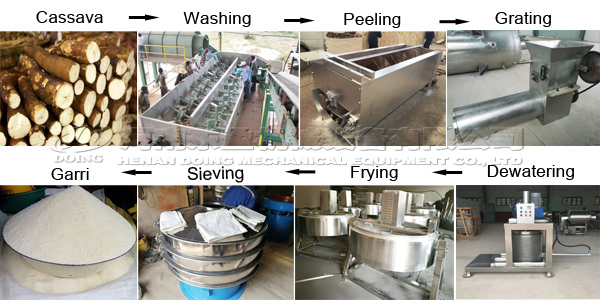 Garri processing machine
Second, China's garri processing machine is of good quality and high efficiency.
To ensure equipment quality and ensure there is no pollution during garri processing, the cassava contact parts of China's garri processing machine are generally made of stainless steel. In addition, China's equipment has a large processing capacity and high efficiency. It can process 1t to 6t of cassava raw materials per hour, and other than fermentation, it can finish the process of cleaning, peeling, grinding, dehydration process within thirty minutes, which greatly improves the processing efficiency. China's garri processing machine is favored by Africans because of its high quality, high efficiency, convenient operation, low failure rate and simple maintenance.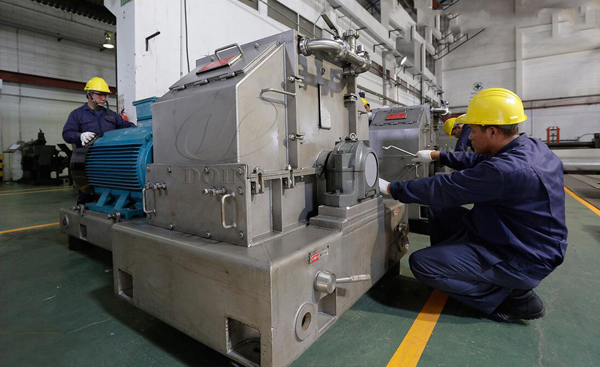 Engineer check equipment to ensure enquipment quality
Last, garri processing machine made in China has good pre and after- sales service.
Many Chinese equipment manufacturers will provide customers with complete service. Take Doing Company as an example. Although our factory is located in China, we can send our equipment to any country in accordance with customer requirements. And our engineers can also provide equipment installation and commissioning work abroad. In addition, our engineers also train operators to use and repair equipment. In addition, all of our equipment has a one-year warranty, any problems with the equipment within one year, we will provide repair services. Even after one year, if there is any problem with your equipment, DOING will actively help you solve it.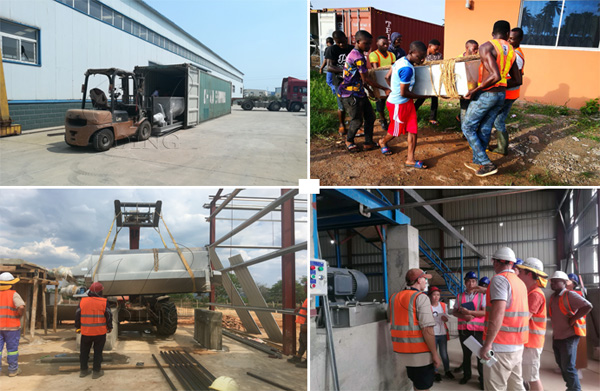 Equipment delivery, installation and maintenance service
The above is the main reason why Africans like to buy garri processing machine in China. Henan Doing Machinery as a garri processing machine manufacturer in China, we constantly improve the production technology, taking high output, low energy consumption, low cost for the design concept, customer satisfaction as the starting point, to provide customers with real practical and reasonable price equipment. Moreover, each batch of our equipment is strictly tested before being sent to customers to ensure the quality of products.So if you want to buy garri processing in China, Welcome to contact DOING.
Leave A Message
More information about Why do African people choose to buy garri processing machine in China ?, please contact us, we will get back to you ASAP.