HomeNewsIndustry news A brief introduction of garri processing machine in Ghana
Cassava is easy to grow in arid areas where rainfall is very limited. Ghanaian farmers choose cassava for their production because of their stubborn viability in the drought. It is estimated that by 2020, the production of cassava in Ghana will double. The high-quality cassava prompted them to establish some garri industries. At present, the garri processing machine in Ghana is mainly small, not only in the domestic market, but even the export is a good choice.
Garri processing machine in Ghana for now is common, but still in short supply, because of the gap in the market. In order to build a garri processing plant, many customers choose to buy machines from China. Doing Company specializes in cassava deep processing equipment, among which the small and medium-sized garri processing machines in ghana is more popular.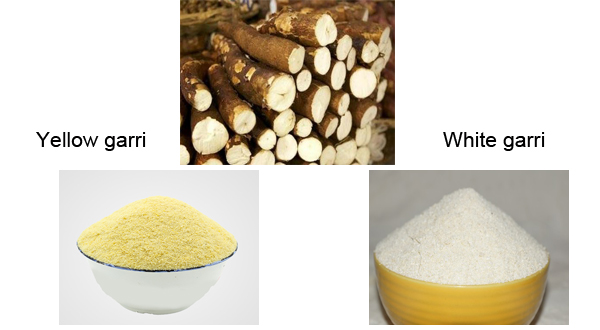 Cassava can be processed into yellow garri and white garri
The usual garri processing machine in Ghana is composed of the following links: peeling machine, grinding machine, dewatering machine, garri frying machine and garri sieving machine. In actual operation, these garri processing machine in Ghana can also be manually replaced or fully automated production of machines according to your requirements for processing volume. DOING professional project manager will give you more professional advice and guidancefor choosing garri processing machine in Ghana for processing. So welcome your inquiry.
Garri processing machine in Ghana has not reach the level of fully automatic yet. Only a small part of large scale garri processing plant choose full automatic garri productrion line. For small producer, they prefer combine garri processing machine and manual processing together. And for them, the most important garri processing machine in Ghana is cassava grater and garri fryer machine.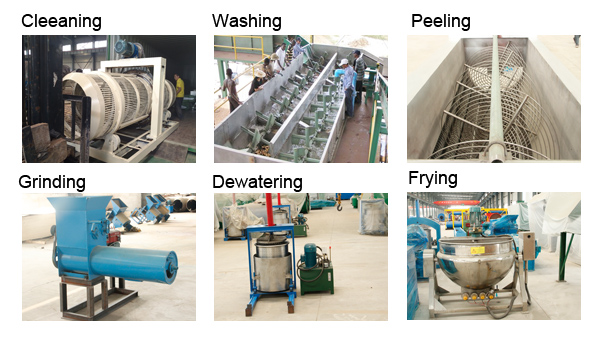 Garri processing machine
As one of the most important garri processing machine in Ghana, garri fryer can use gas or electricity as the heat source. It has the advantages of large heating area, high thermal efficiency, fast heating of materials, uniform heating and easy control of heating temperature. The machine is automatic flipping, discharging and ignition. The mixing speed can vary depending on the product. Mixing wok produced by China Doing Group mainly consists of a pot body, a frame body, a stirring system, a heating system, a speed regulating transmission device, a stirring shaft, and a pot body turning system. It saves manpower, increases production, and reduces production costs through automated design and manufacturing. This garri processing machine in Ghana is easy to operate, high in work efficiency, low in energy consumption, long in service life, compact in structure and convenient in maintenance. It is a stirring pot with excellent performance.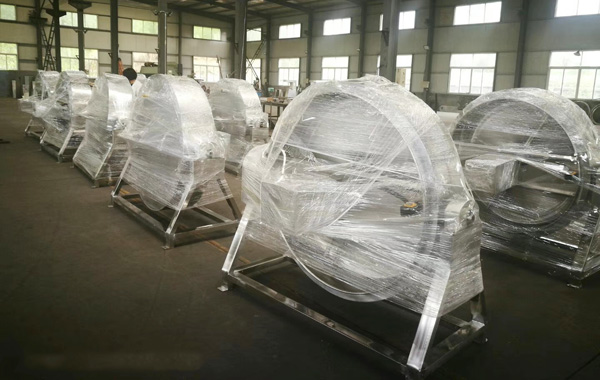 Garri fryer
Investing in garri processing machine in Ghana is first to have a certain budget and then choose the right amount of processing. And when purchasing garri processing machine in Ghana, you should focus on selecting main machines like cassava grinder, dewatering machine and garri fryer. Then after that we can do to the most suitable solution according to your needs and budgets.
Traditionally, cassava is one of the main foods of Ghanaian, and it is also widely consumed in other African countries. In some parts of Africa, cassava accounts for more than half of people's daily diet. But due to its short storage time, cassava roots are normally be processed into different types of local food such as starch, ethanol and Garri. Ghanaians say that if they commercialize cassava, such as a lot of factory of garri processing machine in ghana, cassava may even replace the status of oil, which will promote their economy and also create jobs.So if you have a cassava plantations and extra money, it is a good choice to engage in garri processing business, which not only solves the problem of cassava storage intolerance, but also increases your income.
Leave A Message
More information about A brief introduction of garri processing machine in Ghana, please contact us, we will get back to you ASAP.