HomeNewsDOING news 1tpd garri production line made by Henan Doing will operate in Liberia
On 14th November, 2022, a Liberian customer ordered a 1 tpd garri production line from Henan Doing. It is used to produce cassava roots into granulated yellow or white garri.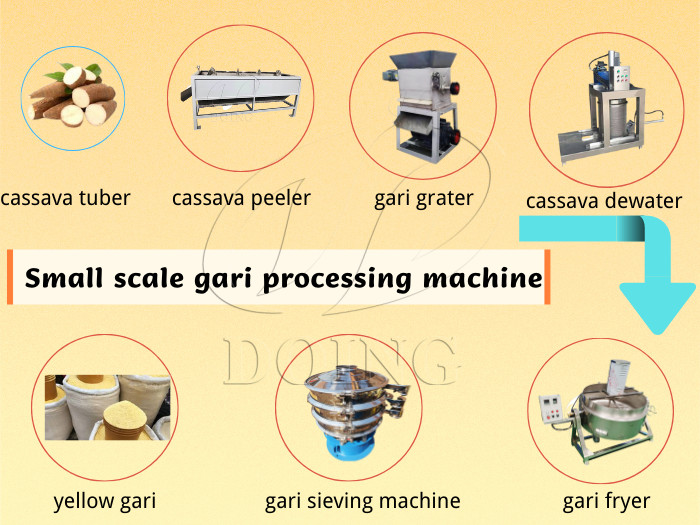 Small scale garri processing machine from Henan Doing
The customer contacted us through WhatsApp for the first time, expressing that he wanted to set up a local garri processing factory in Liberia, with great emphasis on machine quality and after-sales service. In order to truly show the strength of Doing company to customers, we show customers the company environment and scale through mobile video to solve customers' concerns about after-sales service. At the same time, show customers the real project feedback that Henan Doing is responsible for. Customer's willingness to cooperate with us is strengthened after further knowing of us, and then we provide customers with detailed machine details.
1 tpd garri production line processing steps:
cleaning cassava tubers-peeling cassava-grating peeled cassava-fermentating-dewatering bagged cassava pulp-crushing cassava cake-frying garri-sieving garri-packing garri
1 tpd garri processing machines include:
dry sieve-paddle washer-cassava peeler-cassava grater-cassava dewatering machine-hammer crusher-garri fryer-vibration sieve-packing machine
The feature of 1 tpd garri production line:
It has the advantages of short installation cycle, high degree of automation and high production efficiency
Want to know more information about garri processing machine, please phone or leave us message on the bellow.
Leave A Message
More information about 1tpd garri production line made by Henan Doing will operate in Liberia, please contact us, we will get back to you ASAP.