HomeNewsDOING news Nigerian old customer repurchased garri packaging machine from Jinrui company
After buying the garri fryer and vibrating sieve, the Nigerian customer repurchased a garri packaging machine which is used to pack cassava and garri products from Jinrui on November 18, 2022. The continuous return of orders from old customers is a high affirmation of our company and equipment.
In recent years, the cassava industry has been the mainstream of Nigeria's agricultural development. Due to its great processing value and many industrial derivatives, its development contains many economic opportunities. At the same time, the Nigerian government vigorously supports the agricultural processing industry. The broad market prospect makes Nigerian customers decide to invest in the cassava garri processing industry.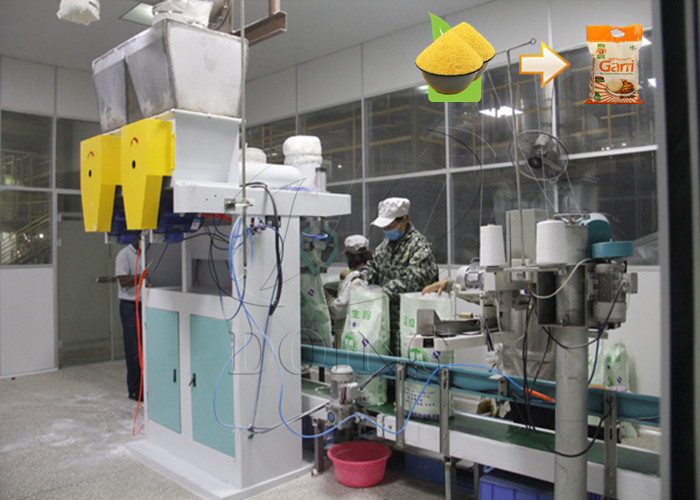 Garri packing machine
Last year, after the customer contacted our company and informed them of their needs, our engineers provided them with equipment configuration plans and equipment quotations. However, due to the limited initial investment funds of the customer, he only purchased the cassava grating machine and dewatering machine from Jinrui's Nigeria overseas warehouse. Soon after, the customer imported a fryer and vibration sieve. In October, the customer contacted us again and expressed their desire to add a garri packaging machine to form a small garri production line to realize the automatic production of garri, which is convenient for sale in the market. The whole cooperation process has been very pleasant before, and the garri production machine purchased has been running stably. The customer recognized our strength and service very much, and finally signed the contract and successfully signed the order.
At present, the garri fryer and vibration sieve ordered by the customer have been shipped. The garri packaging machine is also in emergency production at the factory. For more follow-up information about the project, please continue to pay attention to Henan Jinrui Company.
Leave A Message
More information about Nigerian old customer repurchased garri packaging machine from Jinrui company, please contact us, we will get back to you ASAP.