HomeNewsIndustry news Africa cassava and cassava processing market overview
Cassava, known as the "king of starch", is the lifeline of the African people, an important staple food for cassava farmers, and a bioenergy crop with great development potential. The annual global production of cassava roots is about 230 million tons, half of which is produced in the African continent. Nigeria is Africa and the world's largest producer of cassava, with an annual output of 38 million tons and an area of ​​about 410 hectares. Congo (Gold), Ghana, Mozambique, Angola, Benin, Madagascar, Tanzania, Uganda and Kenya have also become major countries for cassava cultivation in Africa in recent years, with an annual output of over 2 million tons. Next, we will introduce the Africa cassava and cassava processing market by taking Nigeria, Ghana and Tanzania as examples.
The annual output of Nigerian cassava is 40 million tons, ranking first in the world. It is also the country where cassava resources are developed in Africa. Since 1991, Nigeria's cassava production has surpassed that of Brazil, making it the world's largest producer of cassava, and has consistently ranked first in the world. However, there are still problems such as imperfect cultivation techniques and weak production and processing conditions. Only a few areas are mechanized, and most other areas are still planted in small scale in a traditional natural way, and there is no stable product acquisition, deep processing and supply. channel. Therefore, for Nigeria, to improve the economic value of cassava, introduce mechanized processing methods, the connection between cassava sales and supply is very important.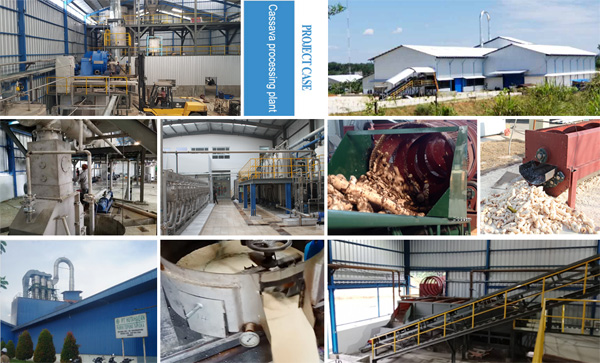 DOING cassava processing plant project
It is reported that Ghana's 2015 cassava output is 17 million metric tons, enough to meet the domestic food demand in 2015. However, the person in charge pointed out that the shortage of cassava in the Ghana market was not caused by the reduction of cassava production, but mainly caused by weak infrastructure and poor food transportation. In fact, the annual demand for cassava in Ghana is only 10 million metric tons. The domestic production capacity is sufficient, and the domestic private sector is called upon to increase investment in agriculture and improve agricultural warehousing and logistics.
As early as 2017, Tanzania joined hands with China to build a cassava pilot project. After the project officially landed, Tanzania's cassava production will increase from the current 5 million tons per year to 20 million tons in five years and 40 million tons in a decade. When the project is fully operational, it will bring employment opportunities to 500,000 people and completely change the landscape of the Tanzanian cassava industry. The cassava and cassava products grown can not only cover the country, but also export to the surrounding markets including the Chinese market. This will also make Tanzania the third cassava importer in China after Nigeria and Ghana. During the ASEAN Expo, many Chinese traders were interested in participating in the Tanzanian cassava processing industry and were interested in cassava processing exports.
The main uses of cassava are in food, feed and industrial development. Tapioca starch is one of the main starch raw materials in the industry. In the fermentation industry, tapioca starch or dried tablets can be used to make alcohol, citric acid, glutamic acid, lysine, etc. These products are used in food, beverage, medicine, textile (dyeing) and the like. At the same time, cassava is also an energy plant with great development potential and is one of the important pillars of the development of biomass energy industry. However, the weak industrialization in Africa has made the cassava processing industry difficult to develop. The active introduction of mechanized processing methods is very important for economic development.
Leave A Message
More information about Africa cassava and cassava processing market overview, please contact us, we will get back to you ASAP.