HomeNewsIndustry news Cassava production processing and marketing
Adopt Nigeria as an example to analyze the cassava production processing and maketing project.
Cassava can produce up to 15 different products during processing, and each product has a relatively large market. For example, in Brazil, cassava is processed into ethanol, which can be used to power cars. Thailand's tapioca starch exports rank first in the world, widely used in industrial processing and food production, while China buys cassava particles from Nigeria for produce industrial caramel, glucose and high quality cassava flour for the food processing industry. The Cassava processing business in Nigeria is a very lucrative and versatile venture to do in Nigeria but it is also one of the most untapped opportunities many Nigerians are not looking at maybe because it's too common to be viewed locally as a goldmine.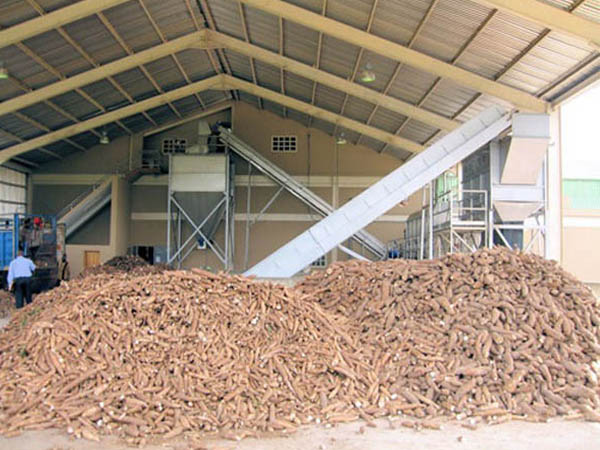 Cassava after harvest
Cassava flour is a good substitute for wheat flour and it alone generated over N25 billion from 125,000 tons to the Nigerian economy in 2014 mostly serving the domestic food market. Even if Nigeria imported over N635 billion worth of wheat flour in 2014 from the USA, but America lose at least $2 billion per annum in foreign exchange (FAO, 2014) because the local preference for wheat flour over cassava flour. Even though Nigeria achieved N25 billion in cassava flour processing in 2014, which is far cry from Costa Rica's more than $28 million, in fact Costa Rica's cassava production is much lower than Nigeria's cassava production exported to Europe and India in the same year. Therefore, the cassava processing industry can provide Nigeria with a large amount of income and wealth. If fully utilized, a large cassava processing plant can employ more than 280 employees. If Nigeria has at least 1,000 cassava processing plants, it can create at least 280,000 job position.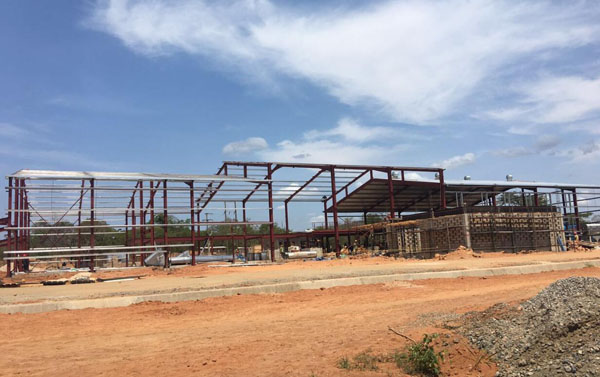 Cassava processing plant installation
What is the Market size of Cassava Processing and exportation opportunities in Nigeria?
From the 35 million tons of cassava produce we can processed into various products 20 million tons such as 2 million tons of animal feeds which can potentially generate N160 billion, 3 million tons of industrial starch which can generate N150 billion and 4 million tons of ethanol which can generate over N320 billion that's over N620 billion per annum from just this three products only, the drawback is that garri could become more expensive in the local market. From exportation Nigeria can generate $400 per ton from 50,000 tons of cassava pellets exported to China which is $20 million per annum.
Who are the possible customers of cassava products, where can I find them?
The local family industry will buy cassava products. For example, perfume and pesticide manufacturers, pharmaceutical companies, breweries, noodle and pasta companies, poultry and livestock farms, etc., on the international market, cassava starch, cassava flour, ethanol, syrup, etc. are very large trading volume, and international trading companies that supply overseas food processing companies order large quantities of cassava pellets.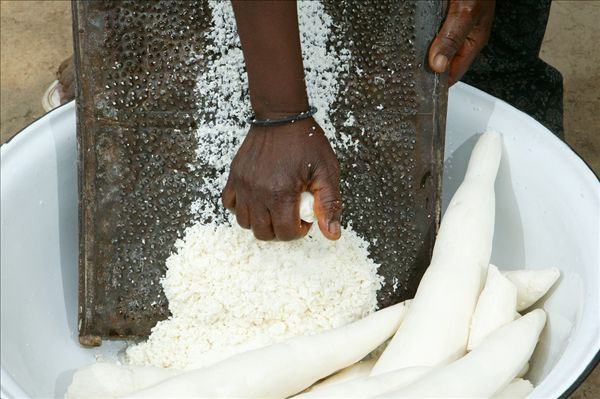 Manual cassava processing
Where is the profit of cassava processing? Is it the domestic market or the export market?
For Nigeria, the domestic market is more profitable than the export market, unless you want to specialize in processing cassava granules and then have a good market in China. After all, Southeast Asian countries and Brazilian cassava products are more competitive, but most Products that can be obtained from cassava processing are more profitable in the local market, like garri and cassava flour processing has a huge local market that guarantees annual sales continuously because people consume very huge of garri and cassava flour in their daily diet. At the same time, industrial starch also has a huge market.
What is the future of Nigerian cassava processing?
Due to increased demand for tapioca starch and increased import costs in local Nigerian plants, industrial starch production is expected to continue to increase, while the bread industry will continue to demand high quality cassava flour (HQCF), plus the cost of purchasing animal feed. On the rise, cassava processing can provide a cheaper alternative to existing animal feed sources. In addition, the population of Nigeria has increased by more than 3% per year in recent years, which means that garri, cassava flour, starch and other cassava products will have a much larger market.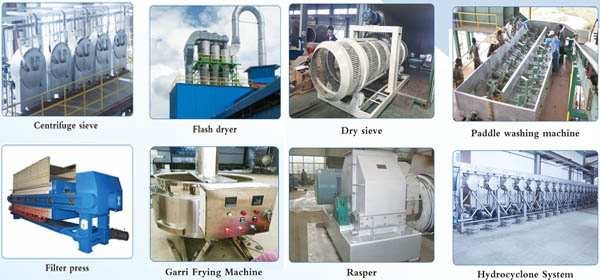 Cassava processing machines from DOING company
The main list of products obtained from cassava processing:
1. High quality tapioca powder, which can be used to bake bread, cakes, etc.
2. Industrial starch - used to produce egg milk sauce, salad dressing, food additives, noodles and pasta, and as a food thickener and stabilizer.
3. Industrial Caramel - Can be used as a coloring agent for beverages, used in seasoning popcorn and other foods.
4. Ethanol and Biofuels - Cassava can be processed to produce ethanol and other biofuels that can be used to power automotive machinery and some industrial machines. Ethanol can also be used in the production of perfumes, spirits, drugs, pesticides and paints.
5. Gary - is a popular staple food in Nigeria with more than 80 million people a day
6. Glucose syrup - It can also be processed into a sweetener, which is a substitute for sugar and saccharin. Large manufacturers such as beverage and food processing companies need glucose as a sweetener and additive for their products.
7. Animal Feed - Cassava can be processed into livestock feed for pigs, goats and poultry. As of 2016, the local market for this product exceeds 800 billion
8. Canned juice and jam - Cassava can be processed into juice, which can be mixed with other ingredients to make jam
Garri processing technology process and machines
When I started the cassava processing business, what possible challenges and threats might I have to deal with?
Cheap or preferred alternatives that are in high demand: Many cassava products have cheaper or more preferred alternatives and the local market will be attracted. For example, wheat flour, which is still superior to cassava flour, cassava starch is not the number one source of stabilizers and thickeners in the food processing industry.
Processing Challenges: The processing of cassava into a variety of products requires the right technology and machinery, and both are in short supply, because locally manufactured machines are simpler to process, it is difficult to process high quality cassava products, buy advanced cassava processing machine from other areas is also expensive.
Marketing Challenges: Especially if you are going to export markets, it may not be easy to find buyers. First, many international buyers prefer to buy from Costa Rica and Brazil, because its processing and storage of cassava roots is more mature and advanced, and secondly, with others. Compared to cash crops, the price per ton of cassava is relatively low, and there are fewer large-scale cassava plantations in Nigeria.
Funding: Cassava processing needs sufficient funds to support, the initial investment is large, it is best to get bank loans, but the profit of cassava processing is very high, and the return is very fast.
Since you already know that cassava products are in great demand both in the domestic market and in foreign markets, and Nigeria is the world's number one cassava producing country, domestic cassava processing plants, especially large and medium-sized factories are rarely. And cassava processing and marketing profits are undoubtedly huge, so from now on, it is very important to seize the opportunity. Starting a cassava processing and marketing business is nothing more than three preparations: money, processing technology and processing machines, while Doing Company is a cassava processing machine supplier. The design and fabarition of cassava processing machines is very professional, also offer the mature and advanced cassava processing technology support.
Leave A Message
More information about Cassava production processing and marketing, please contact us, we will get back to you ASAP.