HomeNewsIndustry news Cassava production in Cambodia processing status
More than 90% of Cambodia's arable land is used to grow rice, 3% to grow corn, and nearly 1% to grow cassava. In Cambodia, cassava is mainly distributed along the Mekong River, the Tonle Sap River and Tonle Sap Lake, and is concentrated in the provinces of Pound and Kampong. For a long time, cassava production in Cambodia has fluctuated greatly with the market, and the total output only accounts for about 0.3% of Asia.
Cassava varieties grown in Cambodia:
Cambodia mainly cultivates two traditional wood genus varieties, namely sweet and bitter species, and fresh cassava starch content is only 24%-28%. In 2000, the Monroe Plantation in Cambodia introduced two varieties of cassava(Rayong60 and Kaset sart50) from Thailand, introduced some Thai bitter type to the neighboring Battambang province in Thailand, and introduced some Vietnamese bitter type cassava in the province of Pounds on the Vietnamese border. Due to marketing and processing reasons, farmers rarely grow high-yield bitter cassava suitable for feed and industrial raw materials, and no one promotes new varieties. Farmers in Cambodia usually like to grow fresh sweet cassava that can be sold in the local market.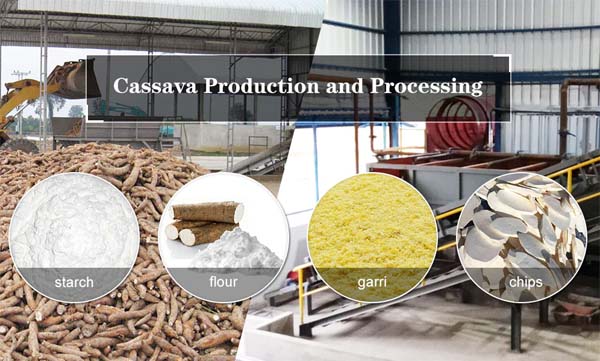 Main cassava processing method
In the province of Pounds, fresh cassava is mainly sold to starch factories. Most farmers use more advanced cultivation methods, such as machine-cultivation and high-yield new varieties, making the province's average yield and total output of cassava the first in Cambodia. However, in other provinces, cassava production in Cambodia is mainly used for fresh food, sold in the local market, providing only a small amount of economic income for the family, shortage of farmers' funds, lack of technical guidance, extensive planting, and simple cultivating and weeding, less fertilization, cassava yield is low.
Utilization and economic benefits of Cambodian cassava production and planting:
At present, cassava production in Cambodia mainly as food. Most farmers like to grow sweet cassava for fresh food, or process it into starch and then make various foods, such as cassava bread, cakes, etc., and then sell it in the local market. Some farmers also process cassava into dried pieces, which are sold or exported to Vietnam and Thailand in the local market to obtain more income. Only a small amount of cassava is used as feed or industrial production raw materials, and cassava leaves are mostly used for animal feed.
Usually, the average cost of planting one hectare of cassava is 50 US dollars. In Ganla province, the income of fresh cassava is 300-400 US dollars per hectare. In the province of Pounds, the main selling cassava chips is 500-600 US dollars per hectare. For some poor farmers in Cambodia, cassava is one of their sources of income.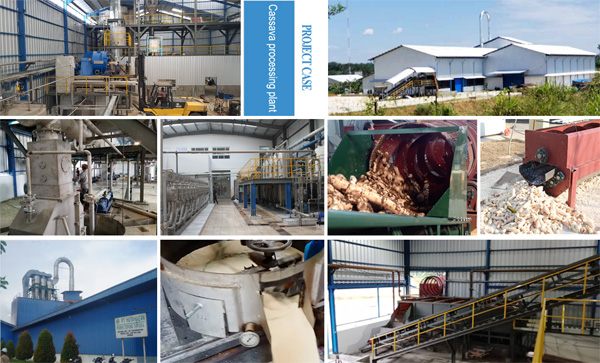 Doing Company installed cassava processing plant projects
The main problems in the development of cassava production in Cambodia agriculture:
The biggest problem facing the cassava production in Cambodia is the contradiction between market supply and demand, mainly due to high production cost, low price, and difficulty in transportation and sales. The cassava processing plant is also due to the high raw material price and insufficient processing materials, resulting in high product cost and narrow domestic market. The channels are not smooth, there is a lack of research and extension services for cassava, lack of new varieties and new technologies, and investment and supply and demand information is not working.
The main problems of the Cambodian cassava processing plant:
In 1994-2001, the Cambodian government successively approved the establishment of a number of cassava plantations and processing plants. Due to insufficient supply of raw materials and high production costs, many companies have already withdrawn. Currently, only three large processing plants maintain production. However, the general lack of work, high costs, low output, it is difficult to benefit. In the province of Pounds, there are still many small factories producing cassava starch and processed starch foods.
Monrothy Starch Factory:
The purchase price of cassava is low and transportation is difficult. Local farmers are not willing to plant. 90%-95% of the processing raw materials of the plant are from their own plantations. The raw materials are seriously insufficient. The factory only starts 2-3 days in some months due to lack of good Management and new technology support, high product cost, low production efficiency and poor efficiency.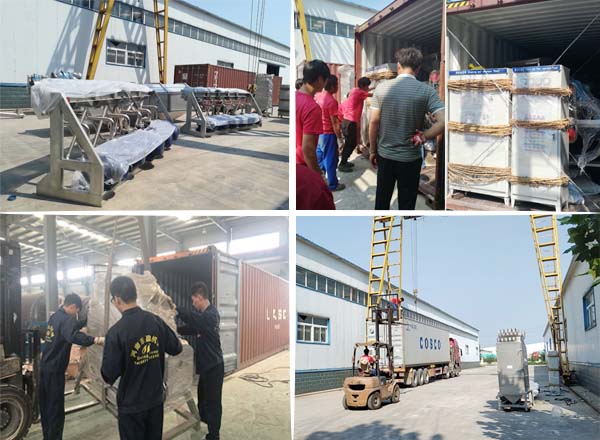 Cassava processing machine packing and shipment from Doing factory
T.T.Y cassava starch factory: At present, the raw material source of the plant is to acquire fresh cassava from farmers. The company plans to solve 50% of its processing materials by its own plantation, and the remaining 50% still comes from farmers. Because the factory is close to the Vietnamese border, Vietnamese businessmen often Cross-border acquisitions, so the price of fresh cassava is fiercely competitive with Vietnam.
Lai's cassava winery: It mainly purchases dried cassava chips from Pound province for processing. The factory is about 200km away from Pound, and the transportation cost accounts for 30% of the total production cost. Many times, due to insufficient cassava raw materials, the operating rate is very low. The plant sells cassava wine mixed with rice wine mainly in the local market, but is subject to competition from sugar cane from Vietnam. Insufficient raw materials and fierce market competition are major problems in this cassava processing plant.
All in all, Thailand's cassava production and processing industry can develop well, thanks to government support and improved cassava processing technology and machinery. In recent years, the Cambodian government has also tried to promote the development of the cassava processing industry. However, the introduction of advanced and mature machine pairs is more important with Cambodia and the cassava growing areas facing the same problem. Doing Machinery is from China. Now Doing Company has completed some cassava processing plants in Nigeria, Indonesia, South Africa and other countries, mainly cassava starch plant and cassava flour plant, Cambodia is not far from China, and now it is very convenient to transport, so if you plan to open a cassava processing plant, Doing Company will be a good supplier.
Leave A Message
More information about Cassava production in Cambodia processing status, please contact us, we will get back to you ASAP.