HomeNewsIndustry news Garri frying machine in Nigeria
Garri, which is made by fermenting and roasting cassava root, is one of the staple foods in Nigeria cuisine. Also known as gari, garry, tapioca, garium sulphate, farofa, and poi, this fermented food is available in fine, medium and coarse grain forms, and in white and yellow colors. The texture comes from how the root is ground and sieved, and the color comes from the addition of palm oil; when the garri is fried by garri frying machine in Nigeria, the palm oil version is generally more in demand. Cassava tubers could be processed into garri.
The garri processing line mainly includes cassava cleaning and washing, cassava crushing, fermentation, dewatering and milling and frying. So the steps are as follows: cassava will be cleaned by dry sieve and washed by paddle washing machine. And then cassava will be ground by grater, next cassava mush will be put somewhere for several days. Next cassava mush will be dewatered by hydraulic press. After that, the dewatered cassava mush will be milled again, then garri frying machine will be used to fry garri. Garri frying machine in Nigeria is a good choice to start a small cost business. Sometimes garri will be fried with a little palm oil. The palm oil gives color as well as flavor to the shavings, and is also useful in further lowering the cyanide content in the cassava. The roasted garri is stored and used as required.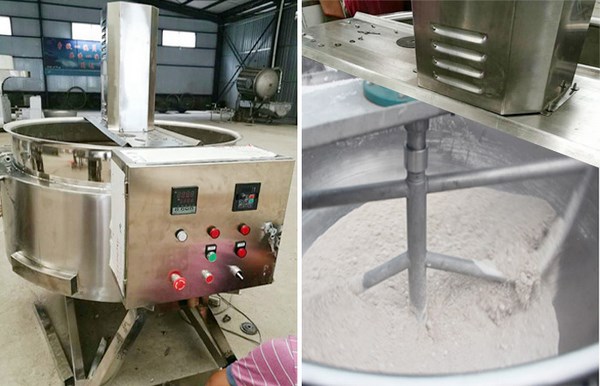 Garri frying machine working
The application of garri frying machine in Nigeria
Garri frying machine in Nigeria is a automatically stirring equipment, which can also keep stable temperature. Operator can save physical labor with it. Meanwhile, material can be processed with stable quality. During garri processing, frying machine is widely used. Main body of the machine is made of 304 stainless steel, which can keep hygiene of the garri. Compared to traditional processing method by hand, frying machine is a perfect choice for garri processing.
The description of garri frying machine in Nigeria
Frying machine mainly consists of pan, frame, stirring part, heating part, driving part, discharge part and others. Pan has different size for choice. Heating system is also optional: electricity, oil. Driving motor and reducer are covered by stainless shell. Discharge part can be operated easily. Self-control system can show the temperature real time.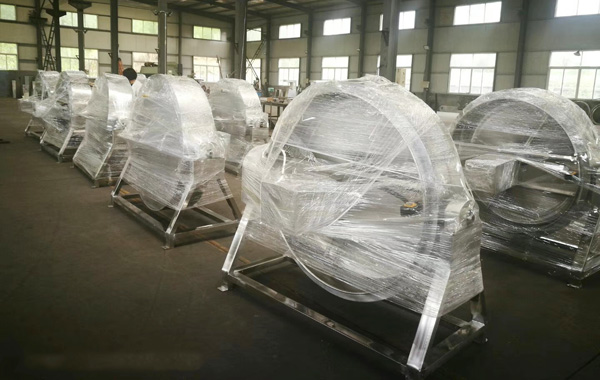 DOING garri frying machine packing for send to Nigeria
The features of garri frying machine in Nigeria
1.Garri fryer is an automatically frying machine which can control its temperature by itself.
2.It is made of stainless steel in order to guarantee the hygiene of garri
3.Heating fast, but stable temperature to prevent pasting phenomenon
4.It is efficient and practical
5.Simple installation and easy operation
All in all, garri frying machine is an efficient frying machine, which can save a lot of time and labor. It is an excellent machine made by Doing company. If you want to process garri, the type of garri frying machine in Nigeria is necessary in the garri processing line. Finally, you can click garri processing machine to get more information.
Leave A Message
More information about Garri frying machine in Nigeria, please contact us, we will get back to you ASAP.