Tapioca chips cutting machine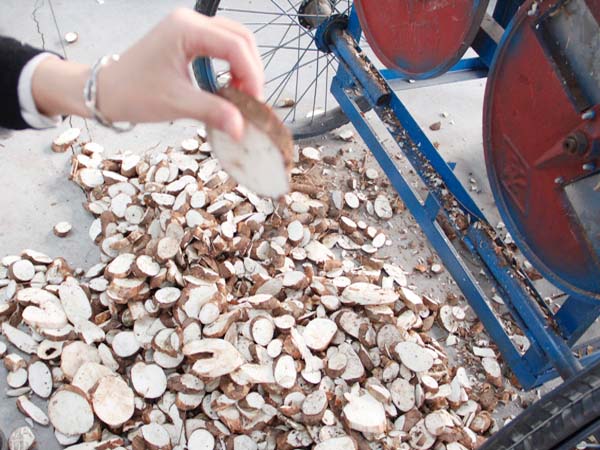 Factory direct sale contact number
Due to the shape of the tapioca irregularity the tough husk, rely on traditional manual of tapioca peeling easily cause excessive peeling, while manual slice is easy to cause more broken materials, it is hard to reuse, then greatly caused the waste of tapiocas. On the other hand, traditional manual methods with low efficiency, and labor demand higher. Therefore, the mechanical tapioca chips cutting machine became a better choice. Doing Company tapioca chips cutting machine cutting fast and evenly, following is the machine introduction:
Tapioca chips cutting machine function:
The washed tubers are carted to the tapioca chips cutting machine where they are chipped into small chips of about 5-15 mm thickness can be adjustable. Doing company tapioca chips cutting machine experienced years of development, improving processing technology, the tapioca chips cutting machine is high efficiency, cutting tapioca into chips then drying them can extend storage time.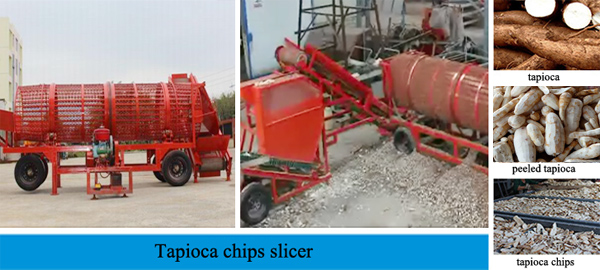 DOING tapioca chips cutting machine function
Capacity: 10 t/h
Weight: 420kg
Power: 2.5kw*2
Slice thickness: 5-20mm(adjustable)
Size: 3.5m*1.5m*0.8m
Doing Company tapioca chips cutting machine main features:
1. Powerful function, not only peeling, but also cutting chips. The tapioca chips cutting machine composed of two parts, simple combination can be used for tapioca chips cutting, and this two functions can be used separately.
2. Simple structure, easy to operate, people don't need to trained.
3. Continuous production, high output.
4. High peeling rate and final chips uniform thickness.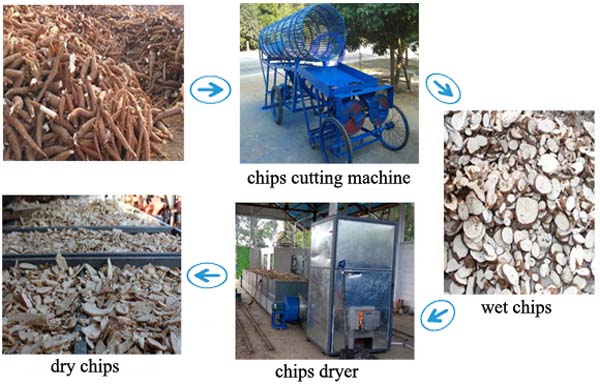 Tapioca chips production process
Tapioca chips cutting machine structures:
DOING tapioca chips cutting machine consists of a driven disc with radial chipping slots fitted with cutting blades. The type consists of a heavy rotating circular steel plate about 12 mm thick and 1m in diameter to which six blades are attached. The blade consists of a 1-1.5 mm steel plate that is corrugated at the cutting edge, the slicing wheels are usually mounted in wooden frames incorporating feed hoppers.
The current high cost of tapioca processing and low quality of tapioca products such like tapioca chips, starch, flour and so on in Africa stems from inefficient traditional production and processing methods, which severely limit the ability of the continent to enter local and export industrial markets and efficiently compete with corn starch in global markets.
Indeed, the single most important intervention to increase the competiveness of the tapioca processing industry is the adoption of mechanization. So it's very important to improve tapioca productivity through approaches that optimize labour requirement during field and processing operation. Our company supply high quality tapioca chips cutting machine. Many clients from Nigeria, Cameroon, South Africa and many other countries in Africa have purchase the tapioca chips cutting machine from us, their capacity have been highly increased.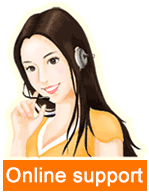 Leave a message

Tel/Whatsapp:
+8613526615783