Peeler centrifuge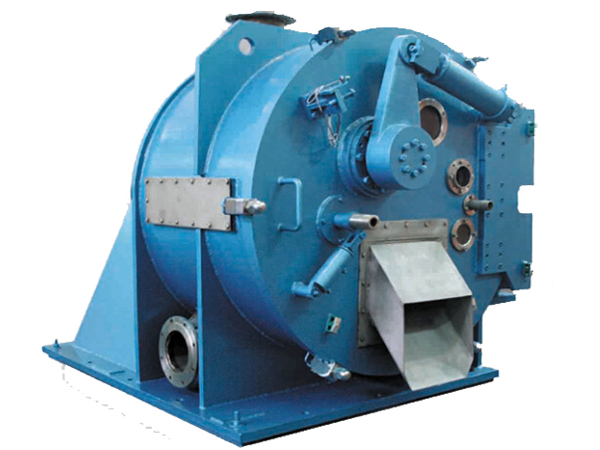 Factory direct sale contact number
Peeler centrifuge is widely used in processing of starch. It is an automatic siphon centrifuge, a solid-liquid separation equipment which adopts continuous operation and intermittent discharging. peeler centrifuge plays a key role in the process of cassava starch production, and the dewatering section is a significant step in this process. peeler centrifuge made by Doing Company can effectively dehydrate cassava starch slurry, and especially the cassava starch can decrease the moisture content to relatively low figure, 36.5%.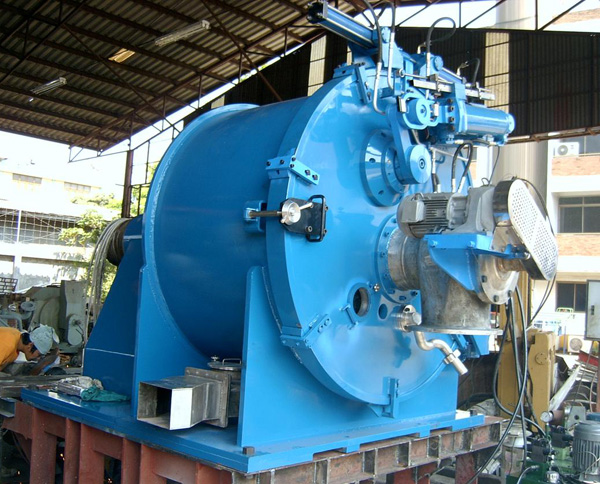 DOING peeler centrifuge
The peeler centrifuge is a dewatering machine, peeler centrifuge with continuous operation, scraper discharge, intermittent operation. It is suitable to separate the cassava starch slurry. The series of doing peeler centrifuge adopt hydraulic and electric joint control mode, which can realize high degree of automation. The feeding, de-liquid, washing, unloading Can not only be realized by manual operation but also the operation time of each process can be adjusted. Besides, people also adopt PC to realize full automatic control.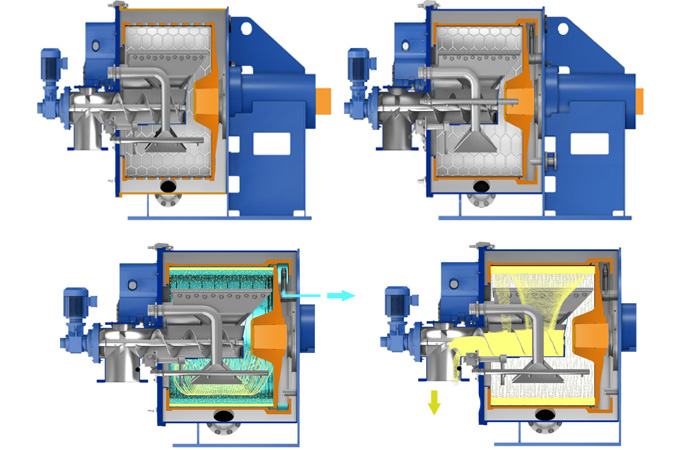 Peeler centrifuge structure and working principle
Doing peeler centrifuge merits:
Peeler centrifuge adopts continuous operation and intermittent operation, so it can keep stable running. its control mode is automatic control, and also can be controlled manually. So Doing peeler centrifuge not only saves your labor but also your cost. The feeding, separation, washing, dehydration, discharging and filter fabric regeneration and other processes are completed under full throttle, therefore the peeler centrifuge can work in single short cycle time, and increase production capacity by 50%. It can obtain a dry residue and good washing effect. Moreover, parts contact with material apply stainless steel, So the machine is resistant to corrosion. its independent electrical control box can realize remote control. The peeler centrifuge has some designs with safety protection: speed detection, over-vibration protection (optional), open cover protection (optional), motor overload overheating protection, scraper rotating mechanical electrical double control. In addition, the shell adopts welding structure, compact structure and higher bearing strength. The motor and centrifuge machine are installed as a whole to facilitate the installation and use of users and reduce the space occupied by the machine. Independent hydraulic station can be isolated and installed for easy maintenance. The peeler centrifuge start s smoothly, effectively, which can protect the motor from overload damage, and simplify daily maintenance. With design basis and rubber damping vibration isolation system, the machine operates smoothly, vibration and noise is reduced greatly, improving the production workshop and the work environment.
Peeler centrifuge made by Doing Company technical parameters:
| | | | |
| --- | --- | --- | --- |
| Model | GK-800N | GK(H)-1250(EW) | GK(H)-1600N |
| Filter area(m2) | 1.13 | 2.36 | 4.68 |
| Maximum load(kg) | 150 | 450 | 996 |
| Maximun load(L) | 100 | 355 | 830 |
| Material | Stainless steel | Stainless steel | Stainless steel |
| Bowl diameter(mm) | 800 | 1250 | 1600 |
| Bowl length(mm) | 450 | 600 | 1000 |
| Rotating speed(r/min) | 1550 | 1200 | 950 |
| Separating factor | 1070 | 1006 | 808 |
| Dimension(mm) | 2030*1960*1530 | 2870*2470*1955 | 4050*2745*2295 |
| Weight(kg) | 5500 | 11150 | 16550 |
| Power(kw) | 45 | 90 | 132 |
Peeler centrifuge working principle:
Water should flow into the machine before feeding so that it ensures material fluidity and uniform distribution of material on the inner wall of centrifuge drum; after separation material enters centrifuge, the drum continues to rotate at high speed and moisture is removed under the action of centrifugal force; after dehydration is completed, The discharge process is completed by the scraper in the drum. After discharging the material, the backwash water is used to complete the washing of the screen to ensure the permeability of the screen. peeler centrifuge mainly works as two kinds: common and siphon peeler machine. Generally speaking, the siphon peeler centrifuge has twice lager capacity than a common peeler centrifuge.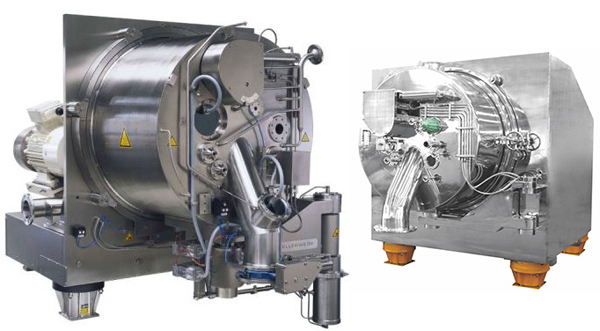 Peeler centrifuge
Last but not least, Doing company not only provides low-price and high-quality peeler centrifuge but provides a complete set of cassava starch processing machines, which include cassava cleaning and washing machine, cassava cutting machine, cassava rasper, cassava starch separating machines, peeler centrifuge, cassava starch drying machine and cassava starch packing machine.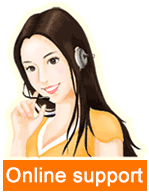 Leave a message

Tel/Whatsapp:
+8613526615783